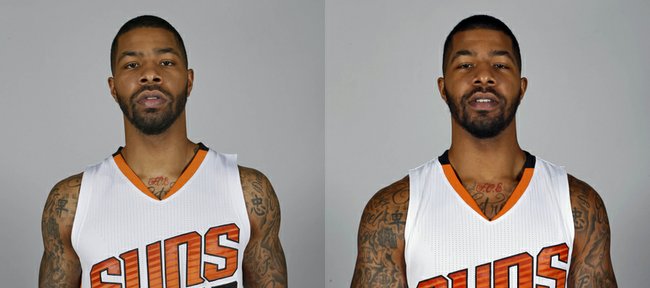 Defense attorneys for former Kansas University basketball standouts Marcus and Markieff Morris are seeking a new grand jury for the twin brothers, who are charged with aggravated assault.
The Arizona Republic reported lawyers representing the NBA players claim prosecutors presented "false and misleading evidence" and withheld information pertinent to the case in a motion to return it to a grand jury and determine whether probable cause exists.
Marcus, who has since been traded to Detroit, and Markieff, who remains on Phoenix's roster, both played for the Suns when the alleged assault took place in January. They pleaded not guilty to the charges in May.
Both Morris brothers and three other men are accused of assaulting 36-year-old Erik Hood, at a sports complex in Phoenix.
According to the Republic, the twins' attorneys contend a witness told police he saw the Morris brothers in a parking lot "at least 100 yards away from the fracas," and the testimony wasn't shared with the grand jury. The motion also said prosecutors failed to mention Hood changed his version of the incident.
The Morris twins are due back in Maricopa County, Arizona Superior Court on September 16.
More like this story on KUsports.com