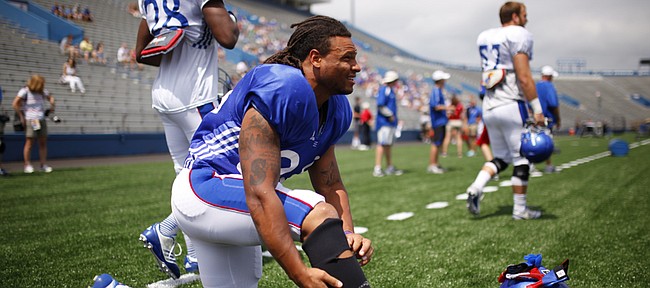 When David Beaty arrived at Kansas University as its new football coach in December, it looked as if finding a starting running back would be the least of his problems.
Beaty will never know, however, what Corey Avery might have accomplished in offensive coordinator Rob Likens' system. The Jayhawks' leading rusher in 2014 (631 yards, 4.2 yards a carry, five touchdowns), Avery violated an undisclosed team rule in the spring following his promising debut season and — along with wide receiver Rodriguez Coleman — earned a dismissal from the program in June.
As preseason camp approaches, KU might not have a clear-cut No. 1 running back. But cheery first-year coach Beaty isn't concerned about finding a productive runner for his team's Air-Raid offense. He actually thinks a few Jayhawks might fit the bill.
"I will say this. In my time as a college football coach, what I've learned is it is very difficult to make it through a season with one or even two running backs," Beaty said at Big 12 Media Days, in Dallas. "You need to have some depth, and that's something I'm glad that we have right now. We've got some very capable guys. Guys that have played college football."
Two of KU's projected top four running backs have played in Big 12 contests: senior Taylor Cox, who suffered season-ending injuries in both 2013 and 2014, and senior De'Andre Mann, who played in six league games this past fall.
After rushing for more than 2,700 yards in two years at College of the Siskiyous, Cox, granted a sixth year of college eligibility due to his injuries, played in all 12 games as a KU junior in 2012. He rushed for 464 yards on 91 carries (5.1 yard average) and three touchdowns.
Kansas junior offensive lineman Jordan Shelley-Smith could tell how much sitting out almost all of the past two seasons ate at his teammate.
"I would hear him on the sideline, you know, 'Man, I just want to get in.' So he took that to his recovery and really went about making sure he could get back," Shelley-Smith said of power-runner Cox.
Mann, a standout junior college running back in two seasons at Hartnell College, supplemented Avery's carries in 2014, and became KU's second-leading rusher, with 399 yards on 85 rushes (4.7 average).
Injuries caused Mann to miss two games a year ago, and limited his availability during spring practices. Still, KU sophomore tight end Ben Johnson sees him as a powerful rushing option, who can slash past or truck defenders.
"He's just an athlete," Johnson said. "He's one of the strongest guys on the team."
Then there are the newcomers. Another junior college product, Ke'Aun Kinner earned the honor of National Junior College Athletic Association Offensive Player of the Year in 2014, when he compiled 1,696 rushing yards and reached the end zone 22 times for Navarro JC.
Kinner arrived in Lawrence for the spring semester after his unstoppable fall. Johnson, who already has witnessed plenty of Kinner's ability, advised fans to be on the lookout for the 180-pound junior.
"They're gonna see somebody that's lightning-quick, that's for sure," the tight end shared. "Ke'aun Kinner, he's fun to watch. I've seen him make some ridiculous cuts and he's a special player. He really is."
This summer, true freshman Taylor Martin, from Fort Worth, Texas, joined the unit. Beaty touted the 5-foot-10, two-star back as an "exciting" prospect. Plus, with the injury histories of Cox and Mann, a featured role for the Dunbar High star can't be ruled out.
As far as Beaty is concerned, Kansas is fortunate to have four options at the position.
"This is a tough league," the new head coach said. "These are kids that run really fast and run at each other, and bodies get hurt. We're going to need each and every one of them. I'm excited about our group."