Tuesday's 11-6 victory over Wichita State at Hoglund Ballpark marked the Kansas University baseball team's sixth consecutive victory over the once-mighty Sunflower State rival.
"To have six in a row over them, you gotta build on that with the rivalries you have, and I'm pleased that we extended the streak to six," KU coach Ritch Price said. "It just shows the progress that we've made. We are a Big 12 Conference member, and we expect to play at a high level."
The Jayhawks (17-24) used a combination of big swings, clutch pitches and timely breaks to take the season series from the Shockers, two games to none.
Two of the biggest blows came from the bats of senior Dakota Smith and freshman Matt McLaughlin, who each ripped home runs to help the Jayhawks power their way past WSU.
Smith's homer, his sixth of the season, was a three-run shot to left-center field that gave Kansas a lead it would never relinquish.
McLaughlin's bomb, the first of his career, came in the bottom of the fourth and was closer to a fluke than a pure display of power.
With senior Connor McKay running on the 3-1 pitch at first base, McLaughlin noticed that McKay did not get a great jump. The pitch, a fastball, was what McLaughlin called "a borderline pitch," but with McKay running he knew he had to swing at it.
"I was either gonna try to put (it) out of the park or foul it off," McLaughlin said. "And, luckily, I put it out of the park. I usually wouldn't have swung at that pitch."
Photo Gallery
KU baseball v. Wichita State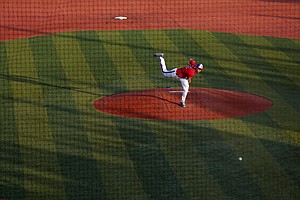 Images from the Jayhawks' game Tuesday night against Wichita State
Not only was the homer the first of McLaughlin's career, it also was his first of any variety at Hoglund Ballpark.
"He's gonna be a really good player," Price said of McLaughlin. "But he's never hit a home run in (batting practice), just so you know. Right now, though, he does a really good job of using the whole field and having quality at-bats."
Wichita State (14-26) scored three in the sixth and added another on a throwing error in the top of the eighth to cut KU's lead to 9-6. But doubles from Owen Taylor and Tommy Mirabelli in the bottom of the eighth gave KU and closer Stephen Villines all the cushion they needed for the final inning.
"It just feels good to get back on track and swing the bats well," Smith said. "It was a good start to get everything rolling again for (the weekend series at) West Virginia."
Wichita St. 011 003 010 — 6 4 2
Kansas 103 221 02x — 11 12 2
W — Sean Rackoski (2-3), L — Reagan Biechler (0-2), S — Stephen Villines (10).
2B: Connor McKay, Joe Moroney and Owen Taylor, KU. HR: Sam Hilliard, WSU; Matt McLaughlin and Dakota Smith, KU. SB: Gunnar Troutwine, WSU; McKay, KU.
KU highlights: Matt McLaughlin 1-for-3, HR, 2 RBI, run; Dakota Smith 1-for-4, HR; 3 RBI, 2 runs; Connor McKay 3-for-4, 2 RBI, 2 runs; Owen Taylor 2-for-2, 2B, 2 runs, RBI; Tommy Mirabelli 2-for-3, 2B, 2 RBI, run; Brandon Johnson 3 IP, 0 H, 1 ER; Sean Rackoski 2 IP 3 H, 3 ER, 1 K; Sam Gilbert 2.1 IP, 1 H, 0 ER, 2 K; Stephen Villines 1.2 IP, 0 H, 0 ER, 1 K.
More like this story on KUsports.com