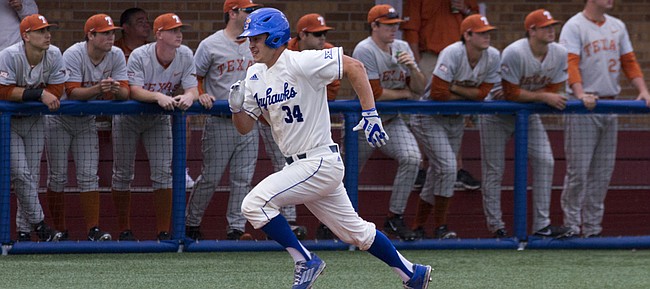 Less than 24 hours after walking off the Hoglund Ballpark field with their heads hanging after a devastating 14-inning loss to Texas, Kansas University's baseball team left Saturday's 5-4 victory like over-caffeinated teenagers leaving a rock concert.
Senior left fielder Connor McKay was the man to blame.
McKay's two-out, ninth-inning, no-doubt walk-off home run that broke a 4-4 tie set off a wild celebration.
Clutch pitching from Sam Gilbert and a big-time catch from McKay (who else?) kept Texas from taking the lead in the top of the ninth despite a leadoff double.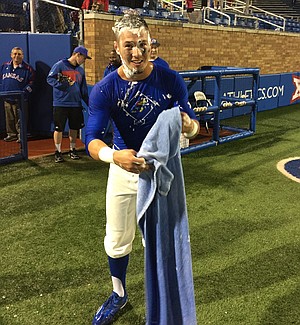 KU's Justin Protacio and Tommy Mirabelli opened the bottom of the ninth with hard-hit fly outs.
Then McKay, a senior from Parker, Colorado, sent his first pitch on a screaming trajectory that ended three-quarters of the way up the light pole in left to give the Jayhawks a dramatic victory.
"The guys in front of me both hit it hard," McKay said. "And I looked down to (third-base coach) Ritchie (Price), and he gave me the green light, so I decided if I got a pitch I was gonna swing at it."
As McKay made his way around the bases — which, unlike a lot of home-run trots, looked more like a sprint — the KU dugout emptied and formed a wall of white uniforms around home plate. As soon as McKay reached his final destination, he was mauled and not seen again until the scrum wound up near the pitcher's mound, and a fired-up and roaring McKay emerged from the pile without his jersey.
"It was an experience I'll remember the rest of my life," McKay said.
And it didn't stop there. As the Jayhawks (16-23 overall, 4-7 Big 12) ran to right field for a quick, postgame meeting with coach Ritch Price, several players barked at the UT dugout. The words went the other way Friday night, and the high intensity displayed in Games 1 and 2 should make today's 1 p.m. series finale quite dramatic.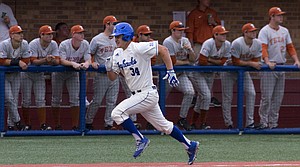 "You know what? I actually liked it tonight," Price said of the fire from his dugout. "When you bring that much emotion into the ballpark, my guys aren't backing down. I was so proud of them. We could've been flat as a door nail after that devastating loss (Friday) night."
The Jayhawks weren't. And they proved it by giving McKay a faceful of shaving cream and a Gatorade bucket over the head as he talked with reporters about his game-winning blast.
"To me, my teammates are the world," said McKay, who became the first KU player since Zac Elgie in 2012 to win a game with a walk-off home run. "This team's stuck through a lot of tough stuff this year. We're really battling through a lot of adversity. And that meant a lot to us, and it meant a lot to me to come through for the team."
Added Price: "That's what makes college baseball special. To see the players' reaction and the euphoria was a special moment."
---
http://www.youtube.com/watch?v=G2Ucq16OK_4
---
Texas 030 001 000 — 4 7 0
Kansas 020 100 101 — 5 9 0
W — Sam Gilbert, 2-2. L — Connor Mayes, 1-3.
2B — Ben Johnson, Tres Barrera, UT; Dakota Smith, KU. 3B: Zane Gurwitz, UT. HR: Connor McKay, KU.
Kansas highlights: Sean Rackoski 1.2 IP, 1 H, 0 ER, 2 K; Sam Gilbert 2 IP 1 H 0 ER 1 K; Connor McKay 2-for-5, HR, RBI, run; Matt McLaughlin 1-for-3, RBI; Blair Beck 2-for-4, 2 runs; Dakota Smith 2-for-3, 2B, RBI; Joe Moroney RBI; Justin Protacio 1-for-4, RBI.
More like this story on KUsports.com