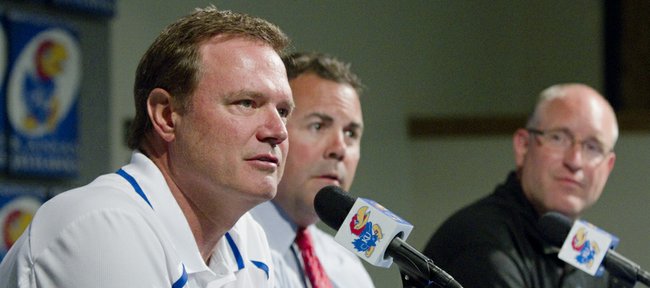 When Kansas University's men's basketball team begins representing the USA at the 2015 World University Games this summer, the Jayhawks will start things off in Gwangju, Korea, in the same pool as Brazil, Chile, Serbia, Switzerland and Turkey.
The World University Games, which feature four pools of six teams, begin July 3 and finish July 14. KU, playing as the National Team, is in Pool D. Following five games of pool competition, teams will be seeded for bracket play, with the top two teams from each pool competing for the gold medal.
Only current university student-athletes or recent graduates, born between Jan. 1, 1990, and Dec. 31, 1997, are eligible for the 2015 Games. For KU's participation, only U.S. citizens can compete — meaning Sviatoslav Mykhailiuk won't play with his fellow Jayhawks in the competition — and incoming freshmen and transfers qualify.
Historically, the USA has won 13 World University Games gold medals, three silvers and three bronze since the inception of the games in 1965. The USA's last WUG gold medal came in 2005. The USA is 1-0 in the World University Games against Serbia with a 68-66 victory in 2009. Serbia later won the 2009 WUG gold medal and USA the bronze. The USA is 8-0 against Brazil with the last meeting in 2001, at USA 99-67 victory. The USA squad is 1-0 versus Turkey with the lone meeting in 2001, a 113-90 decision. The USA has yet to face Chile or Switzerland in World University Games competition.
This is the second time a college team will compete in the World University Games. In 2007, the University of Northern Iowa participated and finished ninth in Bangkok, Thailand.
The Kansas travel party, consisting of 12 competitors and staff (24 total), will leave Lawrence June 28 and live in the athlete village throughout the Games.
The International University Sports Federation (FISU) which governs the World University Games established the criteria for selecting each pool based on previous WUG results, previous participation in the Games, continental representation and the International Basketball Federation (FIBA) rankings. Following the five games in pool competition, the teams will be seeded for bracket play with the top two teams from each pool battling for a medal.
2015 World University Games Pools
Pool A – Korea, Estonia, Germany, China, Angola, Mozambique
Pool B – Russia, Canada, Mexico, Mongolia, Sweden, Montenegro
Pool C – Australia, Lithuania, Finland, Japan, France, Chinese Taipei
Pool D – Serbia, Brazil, USA, Turkey, Chile, Switzerland