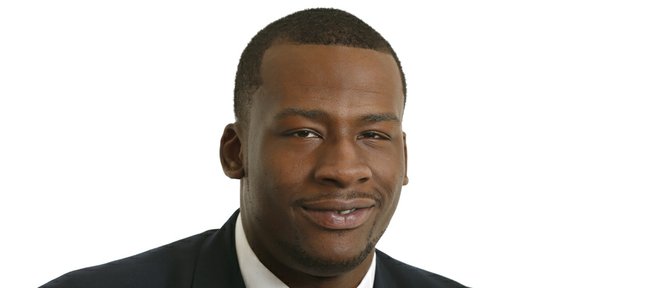 By no means an expert swimmer, 6-foot-81⁄2, 240-pound Kansas University basketball freshman Cliff Alexander was told to tread water with his teammates early Friday morning in the 12-foot deep end of Robinson Pool.
Seeing the future NBA power forward could use some help during part of "The Program" — a grueling two-day regimen put on by Marine Eric Kapitulik — freshman Devonté Graham and sophomore Tyler Self took turns monitoring Alexander's position underwater and from the side.
"You've got to trust your teammates. Cliff had the trust in us we wouldn't let him drown," Graham said after the conclusion of The Program, which had 16 Jayhawks in the pool at 5 a.m. Friday, following five hours of mentally and physically taxing drills Thursday afternoon and evening.
"The main thing is, it's not about yourself. You shouldn't be worried about what you are doing. It's all about your teammates. All the selfishness we had going on, people wanting to be about me, me, me, me, me, we just turned it around. Now it's about, 'We've got to do it together,''' added 6-foot-2 point guard Graham, the one Jayhawk presented a T-shirt (with The Program logo) by the Marines, signifying top leadership skills of all participants.
"You really see who will help you when you are surviving for your life," noted sophomore guard Wayne Selden Jr., who was in charge of a "mission" in the water in which players had to remove their soaked sweatshirts and pass them to a teammate, who put the shirt on following Selden's command.
"I could say it wasn't the most tiring thing I've done, it was the hardest thing I've done because we all were out of our comfort zone," Selden added. "We're basketball players, not swimmers, so being in the water really threw us off."
The activities by no means were confined to the pool.
"We had to carry logs as a team, had to carry sandbags, carry each other. I felt bad for Kelly (Oubre Jr.). He had to carry me," the 6-5, 230-pound Selden said of 6-7, 200-pound Oubre.
The Jayhawks on Thursday performed a "Fireman's Carry."
"We'd carry a teammate to the 21 (-yard line) and back, the 41 and back, the 61 and back, the 81 and back and 101 and back. We're going to go to the 21 because everybody else (hoops opponents) will go to the 20. We're going to go to the 41 because everybody else is going to go to the 40. We just wanted to really push ourselves, and they (Marines) really helped us do it," Selden added of drills on the football field.
"I was the (command) leader of that (drill)," Graham explained. "I was encouraging them like, 'Keep 'em up; keep 'em up. You are almost there.' They had to drop 'em (teammates) down on my call."
The Program was not some hokey two-day exercise that ended with the Marines presenting each Jayhawk player a diploma.
In fact, it ended with the players receiving a stern talking-to.
"He (Program leader) sat us down on the bleachers and told us how bad our first day was and how we wasted our first day because we weren't buying in, but today we had a good day compared to yesterday," Graham said Friday afternoon. "We were better teammates today, and that's what he said. We have to be leaders. Not one of us, but all of us have to do our job."
Stated Selden: "They kept it real with us. Our first day wasn't good, so it wasn't 'congratulations' on our first day. The start to something on the second day was a good start for us. They gave us a debriefing and let us know where we have to keep going, what we need to do to stay consistent as far as leading."
Selden definitely believes the just completed two-week Boot Camp (compared to one week a year ago) plus the two-day Program will greatly benefit the 2014-15 Jayhawks, who open practice next Friday and will debut publicly at the Oct. 10 Late Night in the Phog.
"Two weeks of Boot Camp ... it's the standard. It's what we are about here at Kansas," Selden said. "And I felt those last two days of The Program really helped us. It really built continuity and togetherness that we didn't have last year. We were never tested like that last year off the court. It was a different element. We had to stay together after being in our own heads in the beginning.
"We began a start to something we want to continue doing."
To see The Program in action, go to http://ljw.bz/1xkNrl9
More like this story on KUsports.com