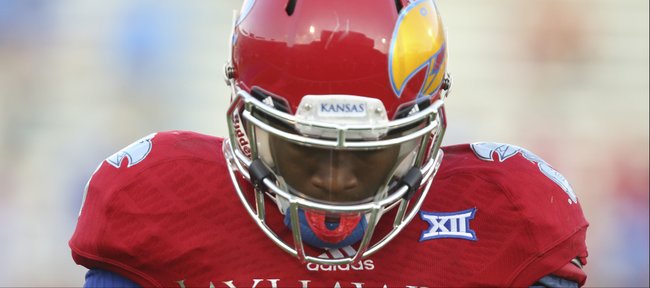 Photo Gallery
Kansas football v. Texas
Images from Saturday's game between the Jayhawks and Longhorns at Memorial Stadium.
Podcast episode
Kansas University football coach Charlie Weis meets the media Saturday night, following the Jayhawks' 23-0 loss to Texas in the Big 12 opener for both teams.
TEXAS 23, KANSAS 0
KEEGAN RATINGS
The question will hang in the air all week, which was about how long that failed third-quarter fade pass in the end zone felt like it floated.
And the question is this: Is it time?
Is it time to pull the trigger and acknowledge that the status quo simply isn't working? Or do you wait a week and see what happens? After all, his only Big 12 victory came against West Virginia, this coming Saturday's opponent, so do you wait a week in hopes that everyone's memory of that game inspires them to follow the leader?
Plus, after Saturday's 23-0 loss to Texas, the Kansas University football team's record is 2-2, which by recent standards isn't so bad.
Still, nothing about this football team's offense feels like that of a .500 football team.
It's a tough call. Oh, by the way, we're talking about the starting status of quarterback Montell Cozart.
Signs pointed to head coach Charlie Weis at least considering making a change at quarterback, where more often than not Cozart looks like he's a year or two away from leading an offense efficiently.
On a day KU limited a shaky Texas offense to 329 total yards and just 111 rushing yards, Cozart couldn't direct his offense inside the 20 but twice and couldn't come away with points either time. He completed 12 of 31 passes for 140 yards, was intercepted four times and sacked four times.
Weis had said repeatedly that Cozart was the most accurate passer on the team in practices. I asked him Saturday if it's possible he's not the team's best passer in games.
"It's possible," Weis said. "I can't rule that out. It's possible. But what I'm not going to do right after a game is over is place all the blame on Montell. I'm not going there."
Where Weis intended on going was to the video room and then to the meeting room.
"I'll go back and watch it and let the offensive staff watch it independently because I don't push anything on them," Weis said. "And then we'll get together and kind of figure out how to move forward toward West Virginia."
Kansas has been in a state of contemplating a change at quarterback for five seasons now. It's no way to win football games, but if not changing gives a team less chance of winning, what's a coach to do?
Kale Pick, Jordan Webb and Quinn Mecham started games for Turner Gill. Dayne Crist, Michael Cummings, Jake Heaps and Cozart have started games for Weis. Back to Cummings? Maybe, which is another way of saying maybe not.
The passing game so badly sabotaged the chances at making something out of the strong performance from the defense that it seemed as if abandoning the pass altogether might be the way to go.
"We did that two years ago," Weis said and then explained why it didn't and can't ever work. "... You need to be able to throw the ball to win. You need to be able to throw the ball, so we're going to keep throwing it."
Even if it's out of bounds or on occasion to the guy in the wrong jersey. If Kansas never threw a pass Saturday the score probably would have been closer to 13-0, but that's the not the goal. Winning is the goal.
So if KU is going to win, it will need to pass efficiently. Could it be time to hand the football to mystery man T.J. Millweard, who uses his hands to flash signals to the quarterback during games.
A three-star, Class of 2012 recruit from Fort Worth, Millweard committed to Arizona State in high school, but switched to UCLA. He did not play as a freshman and transferred to Kansas in Aug., 2013. Transfer rules required him to sit out last season and he is listed third on the depth chart at quarterback this season.
Millweard, who has been limited to holding duty this season, completed 2 of 8 passes for 16 yards in KU's spring game. No running threat, Millweard would play behind a line challenged at the art of pass protection. 
No easy solutions or natural fits are available at QB for KU this year and beyond.
After meeting with offensive coaches to determine the quarterback vs. West Virginia, Weis might want to call an emergency all-staff meeting to advise everyone to tap every junior-college contact to identify and pursue quarterbacks to recruit. The obvious problem with that: How many coaches will be around long enough to seal the deal? The chances of Weis returning for a fourth season are going, going ...
Will he finish his third?
More like this story on KUsports.com