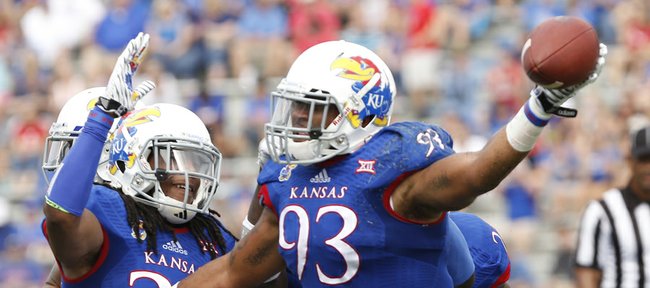 The story's the same just about every year but always seems to take on a slightly different feel because of the individual stories that accompany the general narrative.
It sets up like this: KU player from Texas — there are 25 such players on this year's roster — enters UT week with a Texas-sized chip on his shoulder because the Longhorns either snubbed him in the recruiting process by choosing to sign someone else or, perhaps worse, never even bothered to take a look at the young man's game film in the first place.
From Todd Reesing (Austin), Aqib Talib (Richardson) and other big names from the past to more obscure and lesser-known Jayhawks such as Trevor Marrongelli (Austin) and any number of young Texans on today's roster, one of the most motivating factors for the matchup with the Longhorns always has been for these Jayhawks to prove to the Texas coaches and players that they messed up by not signing them. Just about every program in the Big 12 has these types of players on the roster, and, no matter how well their careers go or how much they enjoy the school they wound up at, these guys just don't forget.
"Texas is definitely the dream school," said junior defensive lineman Ben Goodman, who hails from Beaumont, Texas. "It's probably every little kid's dream school. They wanted to play for the Longhorns."
Goodman, who is close with a few of the current Longhorns, is one of those players who never got a sniff from Texas. Although he is plenty happy with the way things worked out for him at Kansas, Goodman still has not forgotten the snub and holds a similar grudge against several Texas schools. For Goodman and the rest of the Jayhawks, though, it's winning, and not settling the score, that remains most important.
"We actually want to beat every team, not just the teams from our home state," Goodman said.
Unfortunately for KU's Lone Star State natives, that has been tough to achieve.
Since Texas and Kansas joined the same conference in 1996, the Longhorns have won all 11 games in the series, leaving the former Longhorn hopefuls with nothing but long faces.
There have been close calls — the 2004 "BCS/Dollar signs" game and 2012 last-second, home loss come immediately to mind — but the Jayhawks have not been able to snap the skid.
For the handful of KU Texans who are seniors, Saturday's 3 p.m. kickoff at Memorial Stadium will mark their final shot at taking down UT. It's an opportunity that's not lost on any of them and one that means as much as any game they've played thus far in their college careers.
"I really do," Mesquite, Texas, senior JaCorey Shepherd said of wanting one final shot at Texas. "The last few times we played them, we had it all there. We had the talent to play with them. Things just didn't work out our way. Growing up, I didn't really have a favorite college or anything, but people back home definitely give you stuff for losing to the home state team and all that. I'm gonna play the same way regardless."
Added Goodman: "(A win) would just be a huge thing for this program. Everybody knows that UT is a big, legendary school, and if we beat UT it'll just build another level of confidence. There's just something about beating the University of Texas."
Or so they've heard.
More like this story on KUsports.com