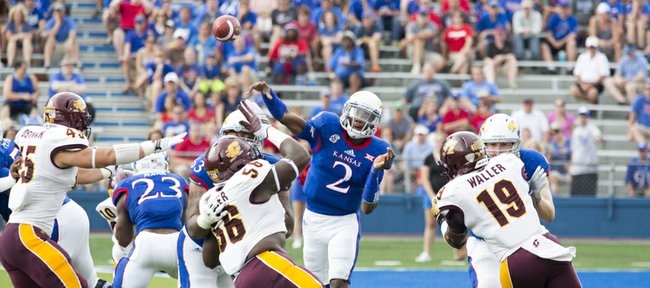 When Kansas University quarterback Montell Cozart is asked to recall the toughest defense he has faced during his limited time playing quarterback, his mind goes to the one place he can draw the most experience.
"In high school," he says before explaining that the Blue Valley schools always were the most fundamentally sound defenses his Bishop Miege High teams played against.
Realizing that answer might not have been exactly what people were looking for, Cozart quickly adjusted and began to rattle off some information about the 2013 Oklahoma State defense that limited Kansas to six points and 202 yards in a 36-point victory in Stillwater, Oklahoma, last season.
"That was a great defense," Cozart said. "One of the toughest I've seen in college football."
Blue Valley and Oklahoma State notwithstanding, Cozart's top two answers figure to be pretty meaningless in a few days. By then, Cozart will have faced a Texas team for which KU coach Charlie Weis and offensive coordinator John Reagan clearly have the utmost respect.
"I wouldn't say it is a fun challenge necessarily," Reagan said. "But it is a challenge. That is why we are in this. We don't do this to sit back and see what can happen. I think our players are excited about it."
Added Weis: "It all starts with their defense. They're stout on defense. There isn't really a glaring weakness."
While such news might make some wilt and dread the match-up, the Kansas offense seems to be full of guys looking forward to the test. Cozart is definitely one of them, even though Saturday will mark just the sixth start of his college career.
"I just try to go into every game as confident as possible," Cozart said. "Those guys are just like us. They put their pants on the same way we do, they bleed red the same way we do. So I just go into it like, what's there to fear? We're Kansas. Everyone has us at the bottom of the totem pole, but we're here, we have a chip on our shoulder, and we want to change that."
Senior receiver Justin McCay, who is riding high after making one of the biggest plays of his career during last week's victory over Central Michigan, shared Cozart's feelings about this week's showdown with Texas.
"I'm a competitor, so I want to compete against these guys," McCay said of the 1-2 Longhorns. "Like the old saying, to be the best, you gotta beat the best. They've got some of the best athletes I've ever seen."
Earlier this week, Weis said UT's athleticism advantage — particularly along the defensive line — gives the Longhorns the ability to play their base defense with a single safety and roll up coverage to the line to take away some of the short passes that Cozart had success with last week. Cozart knows that's coming. And, because of the game plan the KU coaches have installed this week, he feels good about the Jayhawks' chances to counter it with shots down the field and discipline and patience.
"I think it's gonna take a little bit of both, being able to execute and also get some big plays on 'em," Cozart said. "It's definitely a challenge for us. We have a few plays where we'll be able to get the ball out of my hands, quick throws and different things like that. It's going to take all of us."
Despite being led by first-year head coach Charlie Strong, the Longhorns still are viewed as a team that likes to bring pressure. Weis and Cozart said film showed that UT blitzes about 50 percent of the time on all three downs. How Kansas handles that will go a long way toward determining how well the Jayhawks compete.
While a lot of this week's onus will be on the KU offense to hang in there, several Jayhawks believe the defense will play just as big of a role in setting the outcome.
"An old high school coach always told me, it's not about what the offense does, our defense has to be better than their defense," junior defensive lineman Ben Goodman said. "We have to be the better defense out there."
Added senior linebacker Ben Heeney: "Our defense is the backbone of our team. As long as the offense can put points on the board, I feel really confident that our defense can hold people to 20 or under."
Mundine honored
KU tight end Jimmay Mundine was named the John Mackey Tight End of the Week by Mackey Award representatives, who in August put Mundine on the 40-man Mackey Award watch list.
The senior from Denison, Texas, caught six passes for 67 yards during last week's 24-10 victory over Central Michigan.
More like this story on KUsports.com