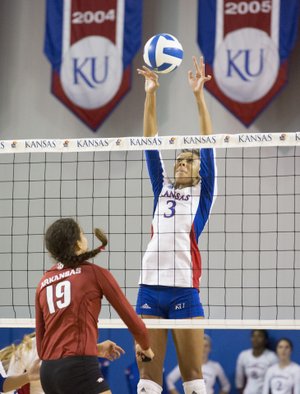 Kansas University libero Cassie Wait treats her volleyball bumps and bruises as badges of honor.
"Actually, yesterday my friend happened to re-tweet something that 'KU volleyball' tweeted about diving in a row of chairs. My response to that was, 'It's not a sport if you are not breaking something.' So I think I can live by that motto," Wait said after recording 26 digs with four assists in KU's 3-1 victory over Arkansas in Horejsi Center.
Wait, a 5-foot-8 sophomore from Gardner, earned MVP honors of the weekend Jayhawk Classic and was joined on the all-tournament team by freshman setter Ainise Havili.
"It's been a little shaky," Wait said of her health as an ultra-active libero during her still-young KU career. "We are on the up now. We are looking to just stay as healthy as possible and keep fighting until the end."
KU (12-2) had plenty of MVP candidates following a 25-16, 25-11, 27-29, 25-18 victory over Arkansas (6-7) on Saturday night.
Freshmen Madison Rigdon, Kelsie Payne and Kayla Cheadle had 20, 12 and 11 kills respectively on a night Sara McClinton and Tayler Soucie were sidelined by injuries. Senior Chelsea Albers had 10 kills, four blocks, eight digs and two aces. Payne had seven blocks.
"I mean, at times I think everybody on our team deserves it. Without them, I wouldn't have an opportunity to do anything," Wait said. "They funnel the ball to me. They give me the opportunities to dig."
Havili, a 5-10 freshman from Fort Worth, Texas, made the all-tournament team in three of KU's four preseason tournaments. She had 51 assists and 12 digs against Arkansas for her sixth double-double.
"I think it helped that we won three of the four tournaments. It was definitely a team thing," Havili said.
Of MVP Wait, Havili said: "She is a rock star. She is in back picking up everything. It's great to know that balls are going to be picked up for me. Even if I am out there, if I'm cheating or something, she'll cover me."
KU will open Big 12 play Saturday at Oklahoma.
More like this story on KUsports.com