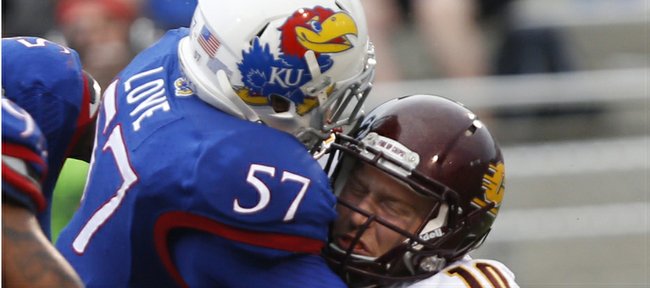 Podcast episode
Kansas University football coach Charlie Weis discusses the Jayhawks' victory Saturday against Central Michigan. Though KU scored a touchdown on the first play from scrimmage, the home team didn't get back into the end zone until the fourth quarter — just in time to break a tie game and win ...
KANSAS 24, CENTRAL MICHIGAN 10
Of all the guys who made big plays, scored touchdowns or had a direct impact on the Kansas University football team's 24-10 victory over Central Michigan on Saturday, only one received a shout-out from head coach Charlie Weis in the postgame speech in the locker room.
"The only player I called out in the locker room after the game was Jake Love for the back-to-back plays," Weis said of the junior linebacker who snuffed out two screen plays during a CMU drive to potentially tie the game. "Those two plays seemed to take the wind out of their sail."
Love finished with five tackles and four of them went for losses, including the two big stops on second- and third-down screen passes.
The first was a good play. As Weis said, "he was in the right area, but now he's just being a football player."
The second made that comment seem even more accurate.
"We had called a blitz, I was supposed to blitz off the edge and I blitzed late and then I was like, 'This looks familiar,'" Love recalled. "I smelled it and made the play."
After the second, which completed the hat trick of big plays for Love — on the previous CMU series he sacked Chippewas QB Cooper Rush by nearly swallowing him whole — several Jayhawks jumped him in celebration near the end zone.
"I was extremely excited," he said. "All the guys were coming over beating on my helmet, beating on my helmet after I made the plays. That felt good for sure."
Few were as excited for Love as senior Ben Heeney, who finished Saturday with seven tackles, two for loss, and a forced fumble.
I love playing with Jake," Heeney said. "I think we're really similar players. People don't give him enough credit, but he's a great linebacker."
Weather delay
Although the inclement weather had not yet arrived, Saturday's game was delayed by 27 minutes at the start of the third quarter, as the Jayhawks and Chippewas stayed in the locker room at halftime a little longer while the threat of severe weather moved north.
"My biggest concern was actually the delay," said Weis, noting past sluggish third-quarter starts vs. Oklahoma State and Baylor after similar delays. "We're in the locker room and we have no idea how long the delay's gonna be. I was been told it would be at least 45 minutes."
It wasn't, and the Jayhawks recovered a fumble on CMU's opening drive of the second half — Heeney forced it, T.J. Semke recovered it — and then pushed their lead to 10-3 with a field goal on their first offensive series of the second half.
New-look O-Line
Junior guard Bryan Peters and junior tackle Larry Mazyck made the first starts of their KU careers on Saturday, filling in for regular right guard Mike Smithburg, who missed the game while recovering from an appendectomy, and regular right tackle, Damon Martin, who was out because of an illness.
KU learned of Smithburg's absence Thursday and Martin's on Friday.
When you lose two-fifths of your starters in two days... It led to some pressure in the first half, but once (offensive coordinator John Reagan) felt that things had settled down in the second half, he went back to giving it to De'Andre (Mann) and Corey (Avery) a lot more."
Without Smithburg and Martin, KU's offense ran for 138 yards on 35 carries and gave up two sacks. Weis said both could be back in time for Texas next Saturday.
Cummings confusion
Junior quarterback Michael Cummings again played just a handful of snaps in this one, and not in relief of starter Montell Cozart, rather as a part of the Jayhawks' regular offense.
On one play, late in the third quarter, Reagan put Cummings in for a third-and-one play despite the fact that Cozart had marched the team into the red zone. Cummings and Avery mishandled a handoff exchange but Avery fell on it to put KU in a fourth-and-one situation that ended with a field goal.
Asked after the game why Cummings went in, Weis explained it had to do with style.
"Michael is more of a power runner," Weis said. "You can run quarterback power and quarterback counter. We don't run those plays with Montell. We run reads with Montell, but we don't run power."
Local boy completes pass
Freshman running back Joe Dineen Jr., of Free State High, did not receive a carry in the game, but did complete a five-yard halfback pass to Montell Cozart on KU's second possession.
Dineen, who moved to running back from safety midway through preseason camp after injuries to Brandon Bourbon and Taylor Cox, played quarterback for the Firebirds as a senior.
This and that...
The Jayhawks lost Saturday's opening coin toss and chose to receive the first-half kickoff after Central Michigan deferred its choice to the second half.... Tony Pierson's 74-yard touchdown on the game's first play marked the first time KU had scored to start things off since Todd Reesing found Dezmon Briscoe for a 60-yard touchdown in the Insight Bowl in 2008. The play was a career-long for Pierson..... Senior buck Michael Reynolds recorded his first sack of the season.... Temperature at kickoff was 86 degrees, under cloudy skies with winds of 16 mph out of the southwest.
More like this story on KUsports.com