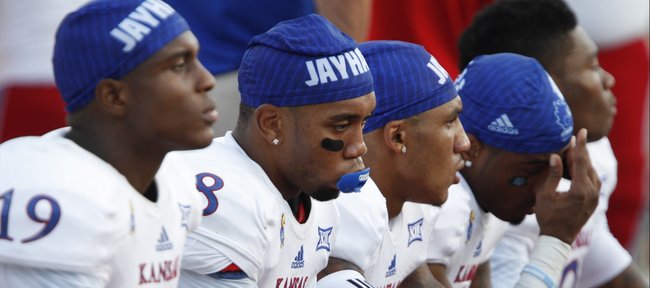 When he putts, he can't drive the ball straight. When he has a solid ball-striking day, he can't find the hole. Why? Because he's a bad golfer.
When they hit, they can't pitch. When they're mowing them down, they couldn't hit water if they fell out of a boat. Why? Because it's a bad baseball team.
When the quarterback has time to throw, the receivers can't get open. When the receivers break free, the QB doesn't see them. Why? Because it's a bad football team.
It doesn't really matter why things keep going awry, just that they do. And when bad things keep happening to the same team, year after year, the problem isn't what happens, it's why it keeps happening.
In college athletics, where the coach also wears the general manager's cap, the answer always leads to his desk. That's why Charlie Weis is on the ropes, needing a victory Saturday at home against Central Michigan as desperately as Bruce Jenner needs to stop seeing his plastic surgeon.
And if the Chippewas prevail, the KU wide receivers won't likely be at fault.
Local golfer Ed Oblon, a solid player whose glaring flaw is that he finishes his swing about as well as Kansas finished its game against Southeast Missouri State, asked the smartest question that I heard on a golf course all summer. And no, it wasn't, "Which way does this putt break?" That would be the dumbest question.
"Will the offense be better?" Oblon asked.
"Yes," I said.
"Why?" Ed asked.
"For one thing," I said, "the receivers will be a lot better."
Game, set, match to Oblon with this follow-up: "Do they have anyone who can get them the ball?"
I still maintain the receivers are much better and so, too, it seems, do the coaches.
Tony Pierson caught two passes for 17 yards, Nick Harwell two passes for nine yards and Justin McCay two for eight yards in Saturday's 41-3 loss at Duke.
"Montell (Cozart) shut down Harwell," Weis said in response to what Duke did defensively. "Duke's defense didn't shut down Harwell."
True.
Cozart repeatedly didn't see Harwell and Pierson open.
"It's not a question of whether they were open. He's now seen them open," Weis said, meaning on video. "You were at the game. You saw ... Tony is standing there in the flat without anyone within 15 yards of him. I mean, Tony can't get any more open than that."
True again.
Weis said he would grade receivers and tight ends "incomplete" for Saturday's game.
"It would be tough for me to be critical of those guys because there wasn't enough action going their way," Weis said. "... Justin McCay, he had a really good game. Now, you don't always see it by production, OK, but he had a really good game."
Said offensive coordinator John Reagan: "I think our receivers have done a good job. I really do. It's not necessarily the greatest thing in the world when the best thing you're saying about them is that they had a great day blocking, but at the same time, I think they have done a very good job.
"I wouldn't limit it to just Nick and Tony. I think there are other guys out there. Justin McCay had a great game. For the most part, I think guys were where we expected them to be. And I think I've got to put us in better situations to have Montell get them the ball."
Noble attempt, but the fact is the right plays were called to result in open receivers.
The ball just didn't get there.