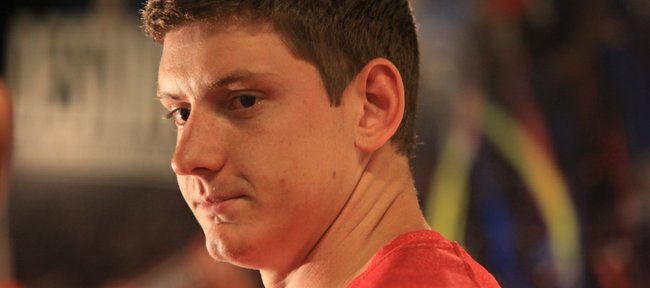 Former University of Arkansas forward Hunter Mickelson, who hadn't played in a real basketball game — with uniforms, fans and referees — since an SEC Tournament loss to Vanderbilt on March 14, 2013, enthusiastically returned to the court in August.
As a member of USA East Coast all-stars, the Kansas University junior transfer averaged 8.3 points and 6.3 rebounds in four games in Estonia and Finland.
"I knocked off as much rust as I could in four games," Mickelson, a 6-foot-10, 245-pounder from Jonesboro, Arkansas, said late last week in Allen Fieldhouse. "It was fun. It was a great experience for me. I had a good time, met a lot of people and got to play my first games in about a year."
Mickelson's team, which was coached by South Carolina's Frank Martin, went 2-2 against international competition. He had 12 points and six rebounds in one game, 15 points and 10 boards in another.
"My summer was fun to begin with, working out here, lifting weights, doing individuals (drills) and getting better. That (trip) added a high point to it for sure. I'd definitely recommend it," said Mickelson, whose teammates were Damonte Dodd (Maryland), Mike Gesell (Iowa), Granville Gittens (Baruch), Dusty Hannahs (Arkansas), B.J. Johnson (Syracuse), Ty Johnson (South Carolina), John Monkam (Lycoming), Tyler Roberson (Syracuse), Sindarius Thornwell (South Carolina) and Adam Woodbury (Iowa).
"I think all-around I've improved after (practicing but not playing in games) a year. Knowing the offense and knowing how things work around here as far as the basketball aspect, kind of settling in and kind of becoming part of the team I guess is what I probably got better at."
At 6 a.m. Monday, he and his teammates begin coach Bill Self's two-week Boot Camp conditioning program in Allen Fieldhouse and KU's practice gym. The first practice of the season is Oct. 3, with Late Night in the Phog set for Oct. 10.
Mickelson did participate in a one-week Boot Camp at KU last school year.
"The school I came from was kind of a run-and-gun type school. I knew about conditioning. I didn't know how they did it here," Mickelson said. "It was definitely a shock because it was a little different.
"Yeah, I was pretty surprised last year when I first got here. It was difficult. It was definitely a big challenge," he added of Boot Camp, which includes an hour's worth of sprints, backboard touches and defensive slides.
Selden in Dynamic Dozen: KU sophomore guard Wayne Selden Jr. is listed No. 7 in Mike DeCourcy's college basketball "Dynamic Dozen," defined by the Sporting News writer as a player most likely to "surge from a supporting role to a starring role."
Of Selden, DeCourcy wrote: "Why him: Selden never totally grew comfortable playing on the wing opposite Andrew Wiggins — or, perhaps more to the point, as a backcourt partner to Naadir Tharpe.
"Selden was not gifted with an abundance of open shots, nor did he convert a significant percentage of those that did develop for him. He is a high-level athlete, though, with exceptional power and an extraordinary work ethic. Even if his three-point shooting does not improve substantially from last season's 33 percent, Selden should deliver more from having better opportunities to drive the ball.
"What's next: The most important quality for Selden as he progresses into his sophomore year is confidence. He rarely played last season as though he had a right to take shots away from Wiggins. Perhaps he did not, but that's no longer an issue. He also seemed to allow poor long-distance shooting nights to affect the rest of his offensive game.
"When he went 8-of-15 from deep in consecutive early January games against Oklahoma and Kansas State, he also went 8-of-12 in those games on two-pointers. When he went 2-of-11 over the next two games, he tried only five two-pointers and made a couple."
Late Night fan: Brandon Ingram, a 6-8 senior forward from Kinston (North Carolina) High, who is ranked No. 18 in the Class of 2015 by Rivals.com, will attend Late Night with Roy Williams (Oct. 3, North Carolina), Late Night in the Phog (Oct. 10, KU) and Big Blue Madness (Oct. 17, Kentucky) in successive weeks. Ingram also has Duke, UCLA and North Carolina State on his list.
Of last week's in-home visit with Self, Ingram's dad, Donald, told Zagsblog.com: "He was telling us that they'd had great production from big guards, such as Brandon. Guys his size had gone on to do well in the NBA and in college, and (how) they would use him at the University of Kansas, and a prime example would be Andrew Wiggins."
More like this story on KUsports.com