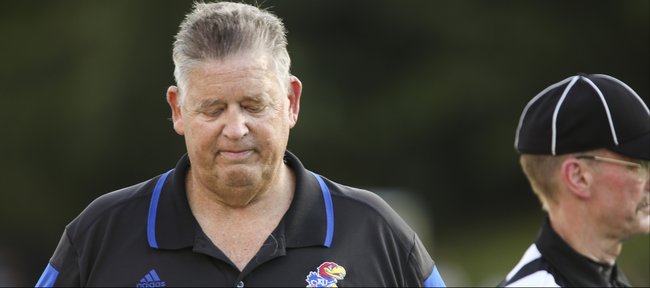 Photo Gallery
Kansas football v. Duke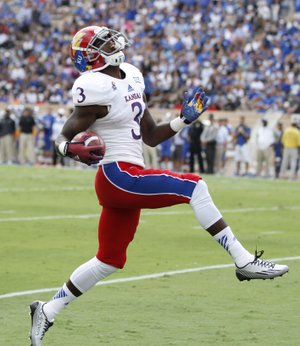 Images from Saturday's game between the Jayhawks and Blue Devils in Durham, North Carolina.
KEEGAN RATINGS
Podcast episode
KU coach Charlie Weis following team's latest blowout loss
Durham, N.C. — Following his team's 41-3 loss to Duke at Wallace Wade Stadium on Saturday — the eighth loss of 34 points or more in his two-plus seasons — Kansas University coach Charlie Weis fielded questions from the media for just over 15 minutes and gave logical, well thought-out, honest answers to anything thrown his way.
The tone with which he provided his thoughts was not one of rage or anger, rather that of a man calmly searching for answers.
According to Weis, it was not the same scene in the locker room during the moments leading up to his meeting with the media.
"I wasn't calm about 15 minutes ago," he said. "I'm calm because I've already said to them, 'What's it gonna be, fellas? I'm glad to go in front of the media and take the hits. I've got no problem doing that. But if you don't see your role in a game like that, then you're missing the beat.' And I think that we have enough guys that care."
Weis has been known for "taking the bullets" for his team and Saturday was no different. Although there were a couple of times when he referenced needing to watch film before answering, Weis shouldered the bulk of the blame for KU's latest gut punch.
"After a game like that, I tell them that I'm gonna come in here and say that we weren't ready to go at the start of the game and, ultimately, the one responsible for that is me," he said. "That being said, I'm sure when we look at the tape, there'll be plenty of blame to spread around."
The old switch-a-roo
After preparing all week to face specific Duke receivers, KU cornerbacks JaCorey Shepherd and Dexter McDonald found themselves lining up against different guys when Saturday's game began.
It was Shepherd on the all-ACC product Jamison Crowder and McDonald charged with guarding 6-foot-6 monster Issac Blakeney. After an initial adjustment period that led to the Blue Devils' first touchdown, the two KU corners did a solid job of shutting the dynamic duo down the rest of the day. Crowder and Blakeney combined for just six catches for 52 yards and no touchdowns.
"(Blakeney) was who I prepared for the most," said Shepherd, who finished with three tackles and one pass break-up. "The difference was their quickness and speed, but we go against guys like that all the time in the Big 12. When I saw (Crowder), I just lined up and said, 'Let's go. Me and you.'"
Heeney a beast
KU linebacker Ben Heeney tied a career-high with 15 tackles in the loss, marking the 13th double-digit tackle game of his career. Heeney recorded five solo tackles and 10 assists and also added one of the team's two tackles for loss.
"Ben's a trooper," Weis said of his middle linebacker. "Even when things aren't going well, Ben wants to be out there. He's a leader, he's a tough guy, it's important to him."
Dineen plays
KU freshman and Free State High grad Joe Dineen played his first snaps as a Jayhawk against Duke. Dineen, who converted from safety to running back during camp after the injuries to Brandon Bourbon and Taylor Cox, ran six times for 28 yards, with a long carry of seven yards.
"I'm glad I put him in there to run the ball," said Weis of Dineen, who spelled Corey Avery (16-87) and De'Andre Mann (12-65) in the game's final minutes. "He got his feet wet here today. He ran the ball hard and ran inside and ran outside and this was a good opportunity for him."
This and that...
The Jayhawks lost Saturday's opening coin toss and chose to receive the first-half kickoff after Duke deferred its choice to the second half.... Senior punter Trevor Pardula averaged 51.8 yards on eight punts, including two bombs of 70-plus yards.... Sophomore safety Tevin Shaw and junior defensive lineman T.J. Semke each recorded a career-high six tackles.... Offensive lineman Bryan Peters, wide receiver Shakiem Barbel, wide receiver Bobby Hartzog Jr., and linebacker Cameron Rosser all made their KU debuts.... Temperature at kickoff was 75 degrees, under mostly cloudy skies.
More like this story on KUsports.com