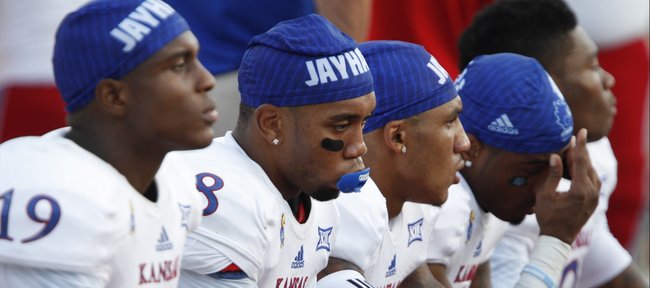 Photo Gallery
Kansas football v. Duke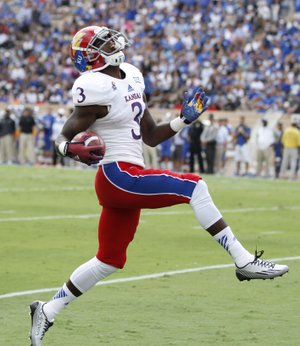 Images from Saturday's game between the Jayhawks and Blue Devils in Durham, North Carolina.
KEEGAN RATINGS
Podcast episode
KU coach Charlie Weis following team's latest blowout loss
Durham, N.C. — The more things change, the more they stay the same for the Kansas University football team, which, once again, found itself looking like a sumo wrestler in a sand volleyball match during Saturday's 41-3 loss to Duke at Wallace Wade Stadium.
As often has been the case during the past few seasons, the Jayhawks (1-1) looked punchless on offense and consistently put their defense onto the field not only with the hope of trying to stop an opponent but also, in a very real way, burdened with the responsibility of finding a way to score.
It never happened. Instead, the Jayhawks, under the direction of new offensive coordinator John Reagan and new quarterback Montell Cozart (11-of-27 passing, 89 yards, 2 interceptions) looked an awful lot like the Jayhawks of old, struggling to three-and-out after three-and-out on offense and watching the Blue Devils (3-0) rack up 511 yards, 41 points, 20 completions and a 9.2 yards-per-carry average against the overworked Kansas defense.
In other words, wash, rinse and repeat.
After the game, KU coach Charlie Weis rattled off a laundry list of concerns. From the passing game and point total to stopping the run and more. Weis made it clear that the Jayhawks have a lot of work to do to become competitive.
"My biggest concern is accountability from me right on down," he said. "Because if everyone doesn't accept accountability then you're not gonna fix the problem very easily."
The Jayhawks never appeared to get themselves into what many believed was a winnable and crucial game. They fell behind 17-0 before they even knew what hit them.
On the Jayhawks' first play from scrimmage, the snap sailed right by Cozart's left shoulder, a la Denver's Peyton Manning in last season's Super Bowl, and, much like the Broncos in that one, Kansas never recovered.
"The first play set the tone," said Weis, acknowledging that he did not know if Cozart or center Keyon Haughton was to blame for the miscue. "It wasn't even the first quarter, it was the first play, and that was the biggest disappointment."
The reason? Because that's what the Jayhawks emphasized all week. They wanted to start fast and finish strong.
"We didn't do too well at either of those," Weis said.
Saturday's loss, in front of a crowd of 25,203, extended KU's streak of losses away from Lawrence to 28 games.
Despite settling down and keeping the game within reach into the third quarter, — as Weis said, "Halftime wasn't panic mode" — the knockout punch officially came during the Blue Devils' second drive of the second half.
Aided by a couple of key Kansas penalties and a steady blend of runs and passes, Duke QB Anthony Boone (19-of-33, 180 yards, 2 touchdowns) marched the Duke offense down the field for a 80-yard drive that spanned eight plays and a game-long 4:01. Boone hit slot receiver Max McCaffrey from 10 yards out for his second touchdown of the game to make it 27-3.
It was a comedy of errors for the Jayhawks, who were flagged seven times, turned it over twice and even struggled to down a perfect punt from senior Trevor Pardula inside the 5-yard line, despite getting to it before it reached the end zone and having four guys in the area to cover it. In the "did-that-really-just-happen" department, the teams even lined up on wrong sides of the field for the kickoff that followed freshman running back Shaun Wilson's final touchdown.
Things got so bad that, early in the fourth quarter, Duke coach David Cutcliffe elected to go for a fourth-and-goal situation instead of tacking on a few more points. Kansas held but it hardly mattered.
Even helping Duke keep the score down proved difficult for KU, which, quite literally, watched the 5-foot-9, 180-pound freshman Wilson (12 carries, 245 yards, three touchdowns) run untouched into the end zone for a 45-yard score and the Blue Devils' final TD with just under four minutes remaining.
Wilson received the ball on the final play of the game and his eight-yard gain as time expired helped him set a Duke single-game rushing record.
"I might have been able to get 20 (yards on those plays)," Weis said. "I wouldn't have got what he got, but all they were running was inside zone."
Saturday's postgame session with the media, with Weis and the players, was littered with comments about what should have happened and what could have happened.
"We didn't expect to lose," senior cornerback JaCorey Shepherd said. "And we especially didn't expect to lose the way we did. We're a better team than we showed out there."
Added senior receiver Nick Harwell, who finished with two receptions for nine yards: "I'm a little surprised. I thought we were better than that. I know we're better than that. I'd have to watch film to pinpoint where the struggles were, but as an offense we didn't play as good as we could."
Next up is Central Michigan at home next Saturday, but Weis said the who of that equation was pretty irrelevant right now.
"That was embarrassing," he said. "It doesn't make a difference who we play next week. The opponent isn't the issue. After a game like that, you become the issue."