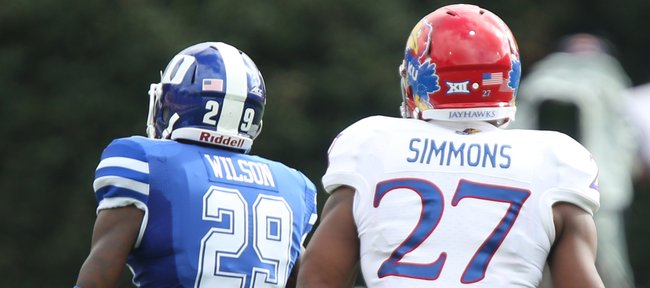 Photo Gallery
Kansas football v. Duke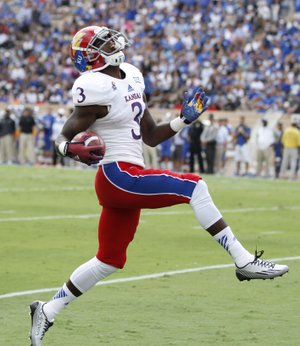 Images from Saturday's game between the Jayhawks and Blue Devils in Durham, North Carolina.
KEEGAN RATINGS
Podcast episode
KU coach Charlie Weis following team's latest blowout loss
Durham, N.C. — Judging talent could be the most important quality for a college football coach charged with turning around the fortunes of a losing program. Clearly, Duke head coach David Cutcliffe has no shortage of ability in that area.
Cutcliffe painted a picture of himself being every bit as excited after watching running back Shaun Wilson play a high school game for the first time as he was watching him break Duke's single-game rushing record Saturday.
Wilson, a 5-foot-9, 180-pound freshman from Charlotte, needed just 12 carries to rush for 245 yards in a 41-3 thrashing of Kansas at Wallace Wade Stadium.
"When I saw him play in person in high school, and I came back, I think everybody here thought I was overreacting a little bit to his talent level," Cutcliffe said. "And I kidded with Shaun on the phone after that week. I said, 'You had your shirt tail out running the ball,' which is not one of my things. He got tackled twice by his shirt tail. I said, 'Shaun, if you'd tuck your shirt in, they wouldn't tackle you.' And he chuckled. But the next game he played — I watched it on tape — he tucked his shirt in and I don't think they tackled him."
Kansas failed to tackle Wilson on one-third of his carries and it didn't appear as if anybody would have been close enough to grab onto a shirt tail had it not been tucked in.
"The type of defense they play, we had different reads on different formations that they play," Wilson said.
He had no complaints about being limited to 12 carries.
"Having a four-back rotation keeps our legs fresh and makes the defenses tired, so when you bring a new back in and he's fresh, you can eat at the defense," Cutcliffe said.
Wilson's touchdown runs were for 69, 68 and 45 yards. Heading into the game's final play, Wilson was two yards short of setting the single-game rushing record. He ran for an eight-yard gain to break Robert Baldwin's 20-year-old record.
"He's a nice young man," Cutcliffe said of Wilson. "He's a Charlotte product, which is important. We love the fact that we can recruit the state of North Carolina and find players."
More like this story on KUsports.com