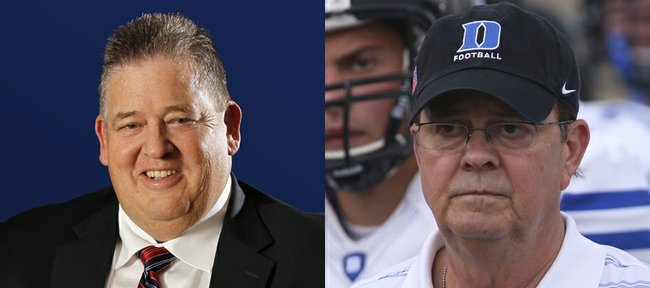 His focus, undoubtedly, will be on doing everything he can to help Kansas University football snap its 27-game road losing streak this weekend in Durham, North Carolina.
But you'll have to excuse KU coach Charlie Weis if he views the moments leading up to KU's showdown with Duke — 2:30 p.m. Saturday, Wallace Wade Stadium, FOX Sports Midwest Plus — as a bit of a reunion.
See, not only does Weis have history with his counterpart standing on the other sideline — Duke head coach David Cutcliffe — but he also holds special memories of Duke's athletic director, Kevin White, and father of Duke wide receiver Max McCaffrey, Ed, whom Weis coached when the senior McCaffrey, a three-time Super Bowl champion (New York and Denver twice), broke into the NFL with the New York Giants.
"I'm going to have to look him up before the game and tell him some stories about his dad," Weis joked earlier this week.
There was no light-hearted tone in Weis' voice when it came to comments he made about Cutcliffe and White. Clearly, the third-year KU coach likes and respects both men, one whom Weis hired to join his staff at Notre Dame and the other who brought Weis to Notre Dame in the first place.
"Probably one of the finest men that I've ever met in my entire life," Weis said of White, who served as AD at Notre Dame from 2000-08. "He taught me a lot about college football. He taught me patience. When I went into Notre Dame, we talked about taking a five-year cycle to really get us back to where we wanted to be. And it's funny: When I sit there and look at what's happening with coach Cutcliffe at Duke, it almost mirrors the conversation that I had when I went into Notre Dame."
Shortly after Weis was hired by White in 2005, Weis, the former New England Patriots offensive coordinator, reached out to Cutcliffe about joining his staff. The initial idea was for Cutcliffe to sign on as Notre Dame's quarterbacks coach, but Weis had bigger plans.
"I was looking for somebody I could turn the offense over to, and I thought David was one of the best minds out there," Weis said. "Not only was he well schooled with the quarterback position, which is his reputation, but I thought he'd be a perfect person to hand over the offense to because of his mind and his ability as a play-caller."
The marriage never happened, as Cutcliffe accepted the job but resigned before really getting started after suffering a heart attack and having triple-bypass surgery.

Cutcliffe was out of football for all of 2005 and he rejoined the Tennessee coaching staff in 2006 and 2007 (he previously worked at Tennessee from 1982-98 and helped develop Peyton Manning into one of college and professional football's greats). In 2008, the former Ole Miss head coach took the head job at Duke, where he has racked up a 33-44 record in six-plus seasons.
"What he's done there is what I would expect him to do anywhere," Weis said. "Just about anywhere he's gone, he's been able to get things going in the right way, especially offensively. He's a very, very good coach."
The feeling appears to be mutual.
"He's really, really brilliant," Cutcliffe said of Weis. "He's a coach that understands, thoroughly, every aspect of the game. ... He's really committed to it. Loves to watch tape. Spends a lot of time. Their preparation will be extremely thorough. They will know you right and left, front and back. Their attention to detail is outstanding."