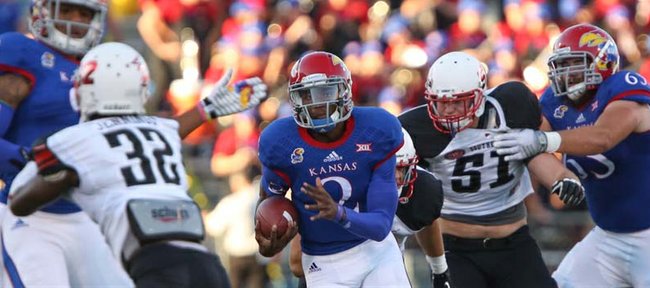 Practicing an area that needs improvement is one thing, but nothing pumps up the urgency of that sort of self-improvement quest quite the way getting exposed in a game does.
Montell Cozart doesn't need to be told he didn't put the right touch on his long passes in Saturday night's season-opening 34-28 victory against Southeast Missouri State.
Arm strength never has been the issue. You don't fire the laser he did on the run to Tony Pierson on the right sideline if you have a weak arm. Dating to last season — when the long misses were more egregious than Saturday's — Cozart has overthrown long balls.
"When it was time to throw the ball down field, I tried that," Cozart said. "I missed Nigel (King) on an out route that I wish I could have back. I keep dreaming about it. And also a deep ball to Nick (Harwell). He dove for it, right on his fingertips. A few plays we wish we could have back, icing on the cake, that would have changed the whole momentum of the game."
He needs to hit on a long pass the way Charlie Weis needs to hit on a quarterback during his time at Kansas. The former could help the latter happen.
"This week we've been staying after practice a lot more throwing deep balls, just getting the chemistry, getting the receivers' feel for everyone's depth and different speeds for the route," Cozart said. "So I've been staying after a lot with those guys, throwing the ball down the field, and I feel like it's going to show this week."
Cozart said he has spent extra time with King, Pierson, Justin McCay and Rodriguez Coleman.
"You definitely have to know your personnel and who you have out there," Cozart said. "If you've got McCay out there in comparison to Tony, you're not going to throw it as far. McCay, you're going to throw it up there and let him go get it. Tony you can just throw it and let him run under it. You can trust his speed."
These are all things Cozart knew about his receivers from working with them throughout camp, but again, nothing like missing the mark in the game makes an athlete sharpen his focus and dial up the intensity of whatever he's trying to perfect.
A few late-season steps out of bounds short of the first-down marker from Cozart late last season called into question his willingness to take a hit. He quelled those concerns by running the option in a fearless way, took one particularly vicious hit and bounced right back onto his feet.
"Which one?" Cozart said when asked about the play. "I was fine. It's part of the game. I came off the sideline and my teammates were talking about that. I told them you don't have to worry about that. I'm always going to get up. If I don't get up, then come get me."
They'll come get him to celebrate when he connects on his first accurate long one. Premonition: Coleman burns behind the Duke defense, extends his arms and Cozart hits him in stride. Touchdown. The crowd grows quiet. The visiting sideline goes wild.