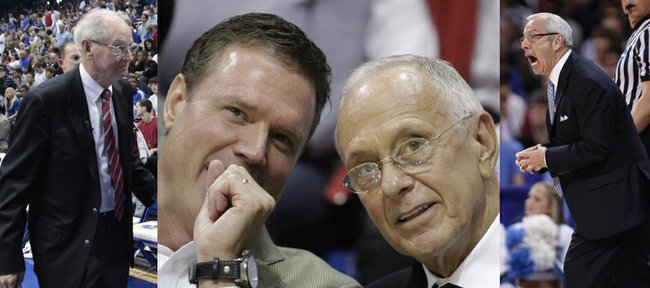 ESPN announcer Jay Bilas will serve as master of ceremonies for "Celebrating 60 Years," an Oct. 27 gathering in Allen Fieldhouse to feature KU coach Bill Self plus former Jayhawk coaches Larry Brown, Ted Owens and Roy Williams.
Members of the Williams Fund at the Hall of Fame, Champion and All-American levels, plus members of the K-Club and current KU students, may purchase tickets starting Monday. Tickets for the remaining Williams Fund levels will go on sale a week from today. Tickets for the general public will be on sale Monday, Sept. 22.
Ten-seat tables, placed on James Naismith Court, will be sold for $5,000 each. Packages include food, beer and wine, two parking passes, one 60th Celebration logo chair autographed by the four coaches, one 2014-15 autographed team basketball and a commemorative piece of the Allen Fieldhouse floor for all table guests.
Seating in the stands is available with a maximum order of 10 tickets per account. Tier 1 seats are $60 each (limited lower level and chairback seating); Tier 2 is $40 (2nd level bench seating); and Tier 3 is $25 (3rd level bench seating). K-Club member tickets are available at $25 (located in Tier 2 seating). Seat locations will later be allocated according to WEF membership level. Tickets will be mailed in advance.
KU students may purchase a maximum of two tickets at $15. Doors will open at 7 p.m., with the show to start at 7:30. To purchase tickets, go to KUathletics.com or call 1-800-34Hawks.
More on coming drafts: Draftexpress.com recently updated its 2015 and 2016 mock NBA drafts. The website has KU's Kelly Oubre and Cliff Alexander being picked Nos. 4 and 5 and Wayne Selden No. 24 in the first round of next June's Draft. Also, Perry Ellis is listed as a late-second-round pick at No. 55 overall. The 2016 Draft has Sviatoslav Mykhailiuk being selected No. 14 in the first round.
Recruiting: Self was to hold an in-home visit with Rivals.com's No. 3-rated senior, Malik Newman, a 6-foot-3 shooting guard from Callaway High in Jackson, Mississippi, on Tuesday. Today, Self will visit No. 2 Jaylen Brown, a 6-7 small forward from Wheeler High in Marietta, Georgia, and No. 18 Brandon Ingram, a 6-8 forward from Kinston (North Carolina) High.
Embiid dances: Former KU center Joel Embiid of the Philadelphia 76ers broke into the "Shmoney Dance" on the streets of Philadelphia and posted it on Instagram, Bleacher Report reports. He was wearing a KU hat. Denver Broncos tight end Julius Thomas performed the dance after scoring a TD against Indianapolis on Sunday night. For the video of Embiid go to http://ljw.bz/1wdnrHK
More like this story on KUsports.com