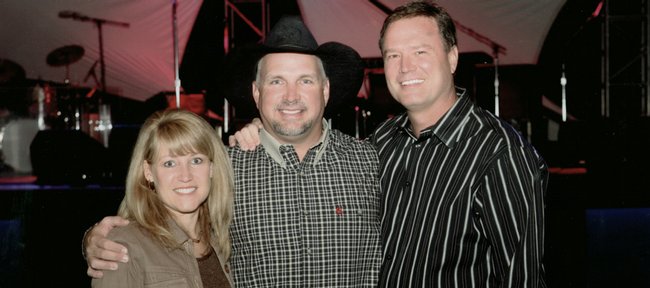 Kansas University basketball coach Bill Self didn't sing a duet with college buddy/country icon Garth Brooks on Friday night at Allstate Arena in Rosemont, Illinois.
Self did sit in the second row, however, with his wife, Cindy, and enjoy the start of superstar Brooks' World Tour.
And Saturday morning, Self spent some quality time with his pal, assisting at a Brooks charity basketball camp at Elk Grove High School in suburban Chicago.
"What I love about it is that Bill and I went to college at the same time, I was in the same dorm, sweet guy then, sweet guy now," the 52-year-old Brooks told the Barrington Courier-Review.
The two Oklahoma State grads Saturday worked with 150 youths from the local Boys and Girls Club, Salvation Army and Oasis Trailer Park.
Self, 51, told the Journal-World at Saturday night's KU-Southeast Missouri football game that Brooks holds camps in various sports, bringing in a person familiar with that sport, in the towns in which he holds concerts.
"Now that we're back on tour, the parties are back in every city," Brooks, who sponsors the Garth Brooks Teammates for Kids Foundation, told the Arlington Heights Daily Herald. "I love these kids."
Of Self's role at camp, Brooks said: "Just always a winner. He's teaching these kids how to love one another and be teammates."
Self has enjoyed his longstanding friendship with Brooks.
"We played together on the same softball team for seven years (in 1980s)," Self told the Daily Herald at Saturday's camp.
"This is his show," Self added in praising Brooks for his work with charity. "Sometimes it's good not to be the quarterback and be a good teammate. That's what I'm doing right now, being a good teammate."
As far as Garth's concert, Self said told the J-W: "It was great. He had two shows (Friday). There's 20,000 people. They clear the building, and he does it again. (He's) pretty incredible."
Self's message to the campers as reported by the Barrington paper: "My deal would be, as a coach, is not to settle. Don't be content with just being OK. Everybody's got greatness inside of them and push every button you possibly can to try to reach that ceiling."
For the Journal-World's story from 2010 on Garth Brooks' friendship with Self go to http://ljw.bz/1quRqrF
Svi headed here: Sviatoslav Mykhailiuk, a 6-foot-8 freshman wing from Ukraine, began his journey to Lawrence on Sunday night. He sent a Facebook message to the Journal-World at 10 p.m. CDT, saying he was at a Ukrainian airport, getting ready to fly to the U.S.
He just completed stints in both the FIBA World Cup and Under 18 world championships.
Self at Larry Brown clinic: KU coach Self was slated to speak at KU coach Larry Brown's SMU coaching clinic on Sunday in Fort Worth, Texas. VCU's Shaka Smart and former Knicks' coach Mike Woodson also were on the schedule.
More like this story on KUsports.com