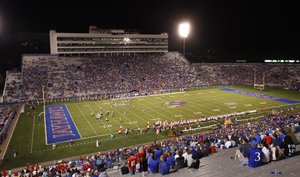 Saturday evening at Memorial Stadium, the anonymous donor who picked up the $500,000 tab that coincided with Kansas University officials' decision to remove the track and replace it with turf, got a first look at what that money did for the KU football experience.
"I'd seen pictures," the donor told the Journal-World on Sunday afternoon. "But I hadn't been there to see it, and I was very pleased with how it looked, pleased with what they did, and I think it's a definite step in the right direction."
Like many within the athletic department, the donor said the best parts about Memorial Stadium's mini-makeover was that removing the track and replacing it with turf made the place a little more pleasing to the eye and also safer for the players who play there. Like many fans, the donor expressed a desire to see more upgrades to KU's football stadium in the near future.
"Hopefully, this is just a temporary situation," the donor said. "I want to see 'em take it back out, lower the field and do some things to that stadium that really put us where we need to be."
The reason behind the anonymity?
"The way I look at it, this is such a small part of what they need to do up there, and, frankly, just a small part of what's going on with the entire university," said the donor, who enjoyed Saturday's 34-28 victory over Southeast Missouri State with a dozen or so family members. "I didn't think it was a big enough deal to justify any publicity and, hopefully, it's not gonna be there very long. I'm pleased. I'm glad we did it, and if we can play four quarters of football, I'd be glad about that, too. I was on Cloud 9 after that first quarter."
Cozart cool
It was not quite the performance he had hoped for, but sophomore quarterback Montell Cozart gave himself high marks for his opening-night effort.
"I had a couple of mental errors, and I went the wrong way on one play-action play," he said. "Other than that, a great start to my career. I couldn't have done it without the guys up front, the backs and the receivers."
After the victory, KU coach Charlie Weis pinpointed the one area where Cozart's presence under center helped the Jayhawks more than anything.
"His feet bailed us out," Weis said. "And if you've been following us the last couple of years, that's the problem we've had in the passing game. I've said several times that his feet can save you in the passing game, and really in the first half he's 8-for-11, but a lot of that is his feet saving us in the passing game."
Asked if he would've liked to see Cozart run more, Weis said his young QB's decision-making on when to take off was just fine.
"I'd rather he sit in the pocket and have protection," he said.
Return of TP
After missing most of the second half of the 2013 season because of a head injury, KU senior Tony Pierson jumped back into action with a monster game, finishing with 95 receiving yards on four catches, 44 rushing yards on three carries and a 67-yard highlight-reel touchdown catch in the third quarter.
"It was good for Tony," Weis said. "Guys like Tony, you like to see if you can't get the ball in his hands about 10 times a game. But it's not always going to go exactly as you dial it up unless you put him in the backfield and make him a running back and hand it off to him."
Weis said what happened Saturday was pretty close to the formula for getting Pierson involved in the game plan but reemphasized that the senior's health remained a priority.
"We're trying to have Tony for a full season," he said. "Not trying to have him for a partial season."
Duke favored in Week 2
The 2-0 Duke Blue Devils opened as 20-point favorites over the visiting Jayhawks, according to the oddsmakers in Las Vegas. By Sunday night, the spread had dropped to 16.
Duke, a high-double-digit favorite in each of its first two games, knocked off Elon and Troy by an average score of 43-15.