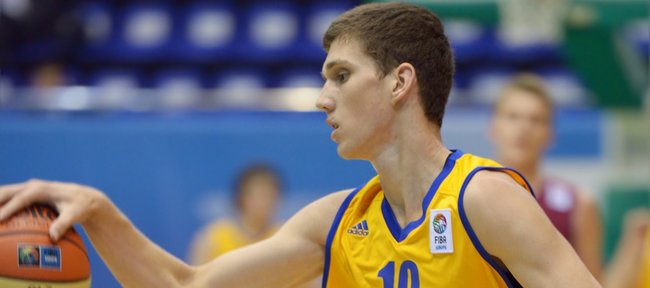 Kansas University freshman shooting guard Sviatoslav Mykhailiuk scored three points off 1-of-4 shooting (1-of-2 from three) while playing 11 minutes in Ukraine's 95-71 loss to the United States in FIBA World Cup play on Thursday in Spain.
The 6-foot-8 Mykhailiuk had two rebounds and two turnovers in 11 minutes in a game that eliminated Ukraine (2-3).
Mykhailiuk played in four of the five games. He scored seven points off 2-of-11 shooting. He was 1-of-6 from three and 2-of-5 from the free-throw line. He had five rebounds, two assists, six turnovers, one steal and four fouls.
Earlier in the summer, he averaged 16.0 points and 4.7 rebounds a game for Ukraine's Under 18 European championship team, which placed second overall.
KU coach Bill Self said Thursday that Mykhailiuk likely would arrive at KU "sometime next week."
Merv, Compton at Texas school: Former KU forward Merv Lindsay, who played one year at KU and one at New Mexico, has transferred to Texas Wesleyan in Fort Worth, Texas.
The 6-foot-7 Lindsay has two years of eligibility remaining. He will be immediately eligible at the NAIA Div. I school.
"For the record, I spoke to no one about my decision. It was a leap of faith type deal for me. I'm still trying to reach my ultimate goal (of being a major factor on college level)," Lindsay said in a text message to the Journal-World. "I put nothing in the media about leaving New Mexico. I just went. I turned 21 on Aug. 7 and made my first major decision of my adult life."
Meanwhile, former KU basketball manager and Free State High guard Douglas Compton will join Lindsay on the Texas Wesleyan team. Compton arrives as a junior guard playing his first year of college basketball.
"Doug Compton is on the team first year. I am forever connected to KU," Lindsay added in a text message.
Compton is happy to be playing hoops with buddy Lindsay.
"It's more than fun. We remained good friends when he left Kansas, so it's been a blast," Compton said in a text message.
Rankings: Thon Maker, a 7-foot junior center from Carlisle School in Martinsville, Virginia, who has KU on his list of schools, has moved from No. 3 to No. 1 in Rivals.com's newest rankings for the Class of 2016.
Several other KU targets remain in the rankings. Harry Giles, a 6-10 center from Wesleyan Christian Academy in Winston-Salem, North Carolina, remained No. 2. Josh Jackson, a 6-6 shooting guard from Consortium College Prep, Detroit, moved from No. 1 to 3.
Jayson Tatum, a 6-7 shooting guard from Chaminade High in St. Louis, remained No. 4; Dennis Smith, a 6-2 point guard from Trinity Christian in Fayetteville, N.C., stayed No. 5; and Malik Monk, a 6-3 combo guard from Bentonville (Arkansas) High, remained No. 6. Terrance Ferguson, a 6-6 wing from Prime Prep Academy in Dallas, improved two spots from No. 10 to 8. Kobi Simmons, a 6-5 combo guard from St. Francis School in Alpharetta, Georgia, improved from No. 15 to 12. Tyus Battle, a 6-5 combo guard from Gill St. Bernards in Gladstone, N.J., improved from No. 25 to 16.
More like this story on KUsports.com