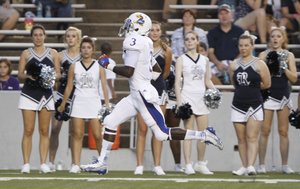 Charlie Weis said he knew what his first play-call as head football coach of Kansas University would be months ahead of time. A flea-flicker from Dayne Crist to Kale Pick, it worked to perfection for a 43-yard gain. Second play: Tony Pierson rushed for 13 yards.
Two plays into his KU career, Weis' offense averaged 28 yards a snap. Two seasons in, it was among the worst handful of offenses in the Football Bowl Subdivision.
So, really, John Reagan's call on his first play from scrimmage as KU's offensive coordinator won't mean much. Still, it's fun to try to guess what it might be.
Montell Cozart, the Jayhawks' sixth different Week 1 starting quarterback in six seasons, said Wednesday he had no idea yet as to the nature of the first play.
Here's hoping it will carry symbolism and represent the change from a stale offense weighed down by too many slow-developing plays. Here's hoping it's a bubble screen from Cozart to Pierson, the fastest, most exciting player to watch with the ball in his hands.
"I love screen passes," Pierson said. "I've got the big boys in front of me, blocking for me. I love that."
Pierson singled out senior receiver Justin McCay as a particularly good blocker.
"Justin loves blocking, and I love him for that," Pierson said.
A native of East St. Louis, Illinois, the likeable Pierson came to KU as a shy, 150-pound running back. He now weighs 177 pounds, which is the equivalent of a 200-pound athlete beefing up to 236 pounds in four years. He's far more comfortable doing interviews and has no trouble talking about how raw he was as a receiver a year ago, his first.
"I was just out there running around, using my speed," he said. "Now I can actually run a route."
Fifth-year senior transfer Nick Harwell, a three-year starter at Miami of Ohio, practiced with Pierson last season but was not eligible to play in games because of transfer rules. Asked to grade Pierson as a receiver on a scale of 1 to 10 last season and this season, Harwell cooperated.
"A year ago, athletically it was easy for him to transition from running back to a receiver," Harwell said. "As far as him being a receiver a year ago, I'd give him a 4 or a 5. He could always catch the ball, it was just his route-running. Right now he runs great routes and pushes me. We run routes together. I feel like he's just as good a receiver as I am."
So would he give him a 10?
"I'd give him an 11," Harwell said, smiling.
Pierson undoubtedly has grown into the receiver position, but as good as Harwell? Never discount the possibility that Harwell, a smart, sly guy, was talking directly to opposing defensive coordinators, letting them know they would be wiser to double-cover Pierson and not pay any extra attention to him. It won't work, but it was worth a try.
It's no secret Pierson can fly. If he can avoid concussion problems that have dogged him in the past, and if he is even close to as good as Harwell maintains, he could be primed for a loud senior season.
More like this story on KUsports.com