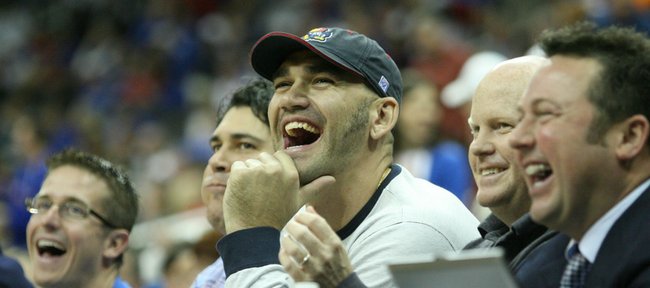 Kansas University basketball coach Bill Self announced Wednesday that guard Josh Pollard has joined the program as a walk-on.
Pollard will be a freshman, eligibility-wise, for the 2014-15 season.
A native Cedar Hills, Utah, and nephew of former KU men's basketball standout Scot Pollard, Josh Pollard graduated from Orem High in Orem, Utah, in 2012. The 6-foot-4 guard then served a two-year mission for the Church of Jesus Christ of Latter Day Saints in Los Angeles before enrolling at KU. 
"Josh comes from the Pollard family we all know and love and is going to be a walk-on for us," Self said in a press release. "He was a good high school player and I told him he would definitely have the opportunity to work out with our team. We're excited to have him. We really don't (know) at what level he will be a contributor but he'll have an opportunity like everyone else. I'm looking forward to seeing how he reacts to guys that have been involved with our program the last couple of years. I know he's excited to be a part of it."
While at Orem, Pollard, the lone senior on the team, led the Tigers to their first 4A state title in 2012, while averaging 8.8 points and 6.2 rebounds and 4.7 assists per game, with 12 blocked shots and 54 steals.
After winning just seven games the previous season, Orem went 24-1 in 2011-12 and Pollard earned all-region and all-state honors and was the Utah Valley Defensive Player of the Year.
Pollard, who has four brothers and three sisters, comes from an athletic family that includes his uncle, Scot, who following KU played 11 seasons in the NBA. Both his grandfather, Pearl Pollard, and his father, Alan, played basketball while in college. His grandfather played at Utah in the 1950s and his father at BYU and USC in the 1980s. He also is the nephew of former BYU quarterback (2000-01) Brandon Doman.
More like this story on KUsports.com