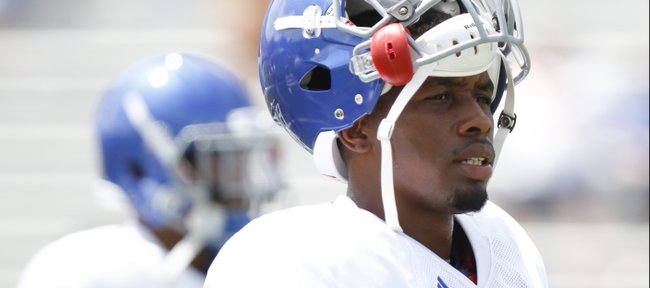 Deja vu has reared its ugly head for the Kansas University football program.
Last year, less than 24 hours before KU opened the season against South Dakota State, the Jayhawks learned that junior-college transfer Kevin Short would miss the opener because of personal reasons.
The time frame may have changed — KU's Saturday opener against Southeast Missouri State is still more than 96 hours away — but the Kansas secondary once again will have to play its opener, along with the rest of the season, without the 6-foot-2, 190-pound cornerback.
KU coach Charlie Weis on Tuesday revealed that Short withdrew from school to return home to Florissant, Mo., to deal with personal issues.
In a statement released to the media Tuesday, Short tried to clear a couple of things up regarding his decision.
"I am not leaving due to academics and I am not being dismissed from the team," he said. "I am not sure what the future holds, but I am hoping to return to KU."
If he does, that doesn't figure to come any time soon.
"I don't see him (returning) this season," Weis said. "He might be back in January. We worked to try to help him as much as we could, but (Monday) morning he came in and sat down with me and wasn't very comfortable. He said, 'Coach, I've got to go.' He withdrew from school this morning, he's currently on his way home, and that's as much as I can say."
Despite the timing of Short's departure, Weis said the KU defense had planned to be without him.

"He's been practicing as a back-up," Weis said. "This has been going on for a while. So it isn't like we haven't been prepared for this. We've been prepared for weeks, so this is not something that just hit yesterday."
Short's absence leaves the Jayhawks with returning senior starters Dexter McDonald and JaCorey Shepherd pencilled in as first-string cornerbacks and newcomers Ronnie Davis, a junior, and Matthew Boateng, a true freshman, as their back-ups. Sophomore nickelbacks Greg Allen and Tevin Shaw add depth to the cornerback spot and even senior free safety Cassius Sendish has experience at the position.
"In the secondary, we've had a few guys step up that maybe we didn't know exactly what (we were going to do with)," Bowen said. "So with those additions we have enough players."