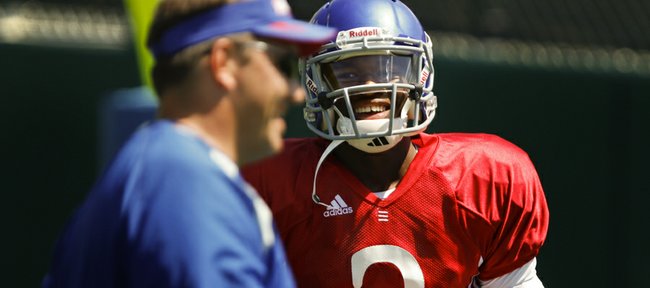 Just about everybody looks great in batting practice and then the game starts and pitches designed to deceive arrive in unpredictable locations.
The same can be said to some extent about quarterbacks in training camps, where they seldom have to worry about getting hit and everybody in the stadium is on their side. And then the game arrives and the goal of the guys on the other side of the line of scrimmage becomes rocking the QB's body and mind with hits that leave the sound of footsteps echoing for hours.
Even so, the words head coach Charlie Weis and offensive coordinator John Reagan spoke Tuesday about sophomore quarterback Montell Cozart didn't do anything to douse the flames of hope that a 21st-century quarterback could fare better than the vintage models who started for Kansas University the past two years, which seemed more like decades.
The quarterback discussed bore no resemblance to the one who looked frozen by fear and ice in a 34-0 loss last November to Iowa State in Ames. For now, the midway point between the camp QB and Ames would suffice.
"He started off on fire, and then he had this little lull right in the middle of camp," Weis said, reviewing Cozart's camp.
The coach said he wondered if a tired arm might have caused the lull, so he "pulled way off of him," and liked what he saw when he let go of the reins.
"Since then, I mean, he's been on fire," Weis said. "Knock on wood, because I'm a superstitious person, but when you're on fire, it means you're completing most of your passes. That means everyone around you is feeding off of that."
Weis and transfers Dayne Crist and Jake Heaps arrived in Lawrence with reputations still partially intact, even though for all three, their most recent stops (Notre Dame for Crist, BYU for Heaps, Florida for Weis) to that point had not been successful ones. The quarterbacks didn't make it a full season before Weis replaced them, and he replaced himself after two seasons. In denial Weis is not.
"We've all seen it for the last couple of years since I've been here, the passing game has been anemic, and I have no problem being the head of the taking-the-blame crew," Weis said. "I mean, it just hasn't worked well from the quarterback and the receivers and all the skill guys and the offensive line and coaches and everything else. I think this just is a better fit."
You can bet he thinks that because Cozart has the legs to deal with blockers' deficiencies, because Nick Harwell gets open and catches what's thrown to him and because Reagan's spread-the-field, quick-hit offense minimizes the damage of a line that sometimes will appear overmatched in conference games.
Cozart remains the key.
"I think for us to win football games, not to be better or to be more competitive, but for us to win more football games, it starts with the guy with the ball in his hands on every play," Weis said. "Our completion percentage was crummy. He was part of that and everyone else was part of that too, coaches, players, everyone."
Running Weis' offense as a true freshman, Cozart completed just 36.5 percent of his passes and didn't throw for a touchdown in 63 attempts.
Comparing Cozart to second-stringer Michael Cummings and No. 3 QB T.J. Millweard, Weis said, "Montell was much more accurate than both those other guys — so before you even talk about their athleticism, which Montell has the most of that, too — accuracy at the quarterback position is the primary deal."
Apparently, a more accurate arm has led to a better head.
"I think that right now he's confident, bordering on cocky," Weis said. "That's a good place to be, and I never saw that at any time last year. I think just happy to be out there was one thing, maybe not happy to be out there, for that matter. I think you're going to see a different kid."
Reagan struck a similar tone discussing Cozart and it didn't come off in a way that created suspicion that he was voicing his boss' scripted words.
Reagan said Cozart, "started camp and was doing really well, had a little bit of a lull, then came out of that, and since that has been very good, and by very good, not just throwing the ball, not just calling plays and getting us in the right plays, but the way he's handling things."
When a young talent makes strides, it has a contagious effect on the energy of a team.
"It's fun," Reagan said. "It's exciting. And he has every right to be right where he is with his confidence right now, based on what he's been doing through camp."
Heaps arrived in Lawrence a beaten man, having lost his starting job. Heaps talked about how his confidence was restored during his red-shirt season at KU, but he sometimes sounded like a guy trying to talk himself into believing that. He was handed the starting job at Kansas and didn't have to earn it.
Cozart starts this season as a guy who won the job in the spring, beating out Heaps, and spent the summer growing into the role as leader of the offense. Cozart comes across as a guy comfortable in his own skin, not one trying to convince himself or anyone else of anything.
The goal of every defense Cozart faces will be to erode that confidence by getting him to run for his life, instead of for the first-down marker, get him slouching toward Ames, seeing his breath better than he did receivers.