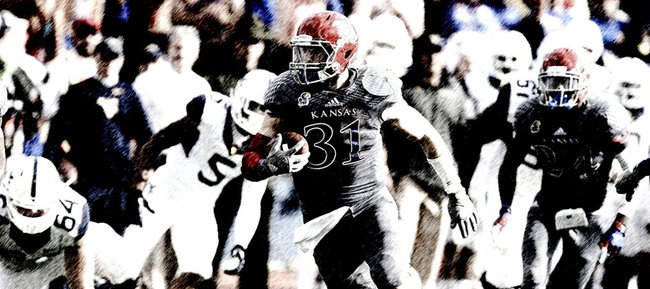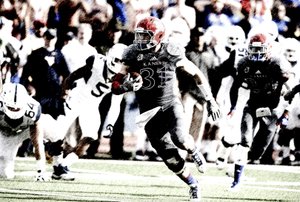 Ben Heeney's teammates will attest: He is the hero Kansas University football deserves.
When wide receiver Nick Harwell heard the senior linebacker had an online presence as a superhero, he had to check it out.
"I think it's pretty cool. I wish I had my own website," Harwell said with a huge smile, referring to the Captain Heeney page created by the KU communications department to drum up support for the team's defensive leader. "I mean, I like it. I like the idea of it. He's the captain of the team, so why not?"
The 6-foot, 230-pound "Diabolical Defender" from Hutchinson has executed enough daring plays on the field for his teammates to applaud the promotion without feeling much envy. When other Jayhawks, such as senior safety Cassius Sendish, talk about Heeney, he sounds faster than a kick returner, more powerful than a defensive lineman and able to take down the Big 12's elite offensive play-makers with a single bound.
"He's a sideline-to-sideline linebacker. He's playing at 110 percent from first kickoff to the very last whistle blow," Sendish said. "I've never played with a player like him, a linebacker like him, before. It's something special."
The way Heeney flies around the field, Harwell wouldn't be surprised to see him take off into the sky like his cartoon double.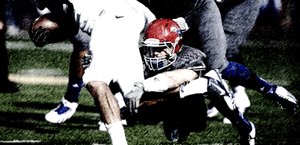 "Some of the things he does is unreal," the senior receiver said. "So I feel like that's the reason he gets the website. They don't want to overdo it with making too many more."
Heeney would disagree. At Big 12 media days, the bearded sensation said the guys sitting next to him — Harwell, Sendish and senior tight end Jimmay Mundine — could have their own football personas, too.
"Everyone on the defense, for sure, could have one," the captain added.
So far, no other nicknames or alter egos have emerged for the KU football team.
Said Harwell: "I wouldn't exactly call myself a superhero or any of the other guys on the team superheroes, but Heeney is definitely a superhero."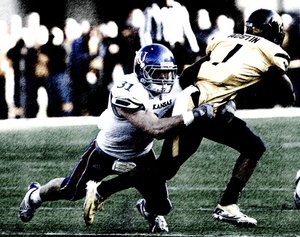 Some might consider his ability uncanny. Mundine said, "That's just Heeney doing what Heeney does."
When KU's offense is on the sideline, players marvel at how he breaks the line of scrimmage.
"He comes out of nowhere and he is on the running back's tail," Mundine said. "He does it every time like it's nothing."
The nature of a college football locker room won't allow Heeney to exist as a guardian of the gridiron without deflecting some jokes in his direction. But those surely will bounce off his chest like bullets off Superman.
Now Kansas needs to unearth a herculean counterpart for its offense. Harwell said some fantastic forces also exist on that side of the ball.
"It's like ridiculous how much they've grown between last season and this season," the receiver said of KU's offensive skill players. "I can't tell you whose gonna be the offensive star. But I can tell you there'll be more points on the board."
More like this story on KUsports.com