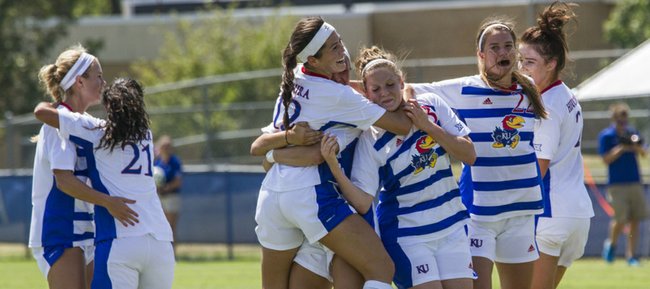 Photo Gallery
Kansas Soccer vs. No. 24 Wake Forest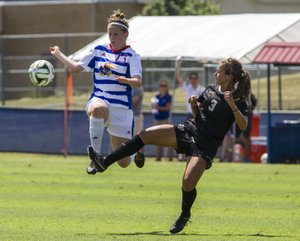 Action from Kansas' soccer match against No. 24 Wake Forest, played on Sunday, Aug. 31, 2014 at the Jayhawk Soccer Complex. Kansas upset Wake Forest, 4-1.
Kansas University soccer coach Mark Francis, soaked from the neck down, spat some water out Sunday afternoon at Jayhawk Soccer Complex and smiled as he addressed his team after a 4-1 victory over No. 24 Wake Forest.
"I knew you guys were up to something," the 16th-year KU coach said, "because you were acting really weird."
The Jayhawks, as a way to celebrate Francis's 200th career victory, had just doused their coach with a sneak-attack cooler shower. Senior midfielder Jamie Fletcher told him the milestone meant either he's a good coach or really old.
Francis couldn't mind the good-natured jab, though. Not after the way KU played to reach 4-0 for the first time in five years.
"It's one of the best games we've had on this field, I think, in a long time," Francis said.
The Jayhawks' fun began in the 25th minute, when senior forward Ali Kimura perfectly timed her run to avoid an offside call and received a pass from freshman forward Eli Mayr. Kimura juked Demon Deacons goalkeeper Lindsay Preston to fire KU's first goal into a wide-open net.
Kansas wasted little time in the second half putting Wake Forest (1-2) away. Mayr won a 50-50 ball from a defender in the 48th minute and pushed an attack into the box before drawing a foul. Then junior midfielder Liana Salazar easily rolled a penalty kick into the right side of the net.
Twenty-nine seconds after extending the lead to 2-0, KU sophomore defender Aurelie Gagnet sent a cross in to Kimura, who re-directed it into the back of the net.
"We got that momentum going," Kimura said after scoring her third goal of the season, "and we just fed off that. It was great."
The senior from Overland Park could've scored a third time in the final minute, when she broke free for a one-on-one with Preston, but she chose to feed Salazar on the left side, giving the Colombian junior her fifth goal of the season.
Salazar said the pass didn't surprise her.
"We're not a selfish team," she said. "If that's easier, that's what we're gonna do."
Kimura said it would've been awesome to net a hat trick, modestly adding that Salazar had an easier shot.
"It's more important the team scores, rather than me scoring," Kimura said. "We just look for each other, play off each other and get the job done."
As much as Francis — 200-152-23 in his 19 years of college coaching (three at South Alabama) — loves that KU is averaging 3.0 goals a game, he thinks the Jayhawks also possess the intangibles to carry them much further than in 2013, when they finished 7-11-2.
"You saw it today. There's people slide-tackling, there's people grabbing people, there's people chasing, there's people hustling," Francis said. "I think we're a pretty good soccer team, but to be honest with you, I think we're gonna win more games because of the fight and the hustle factor."
Wake finally got a shot past senior KU goalkeeper Kaitlyn Stroud (four saves) in the 82nd minute, when Riley Ridgik scored on a free kick from more than 30 yards out.
Stroud returned to action after a one-game suspension for violating team rules, as did senior defender Caroline Van Slambrouck. Both started and played all 90 minutes.
Kansas plays its first road games of the season next weekend, beginning with a 5:30 p.m. Friday meeting with Colorado.
More like this story on KUsports.com