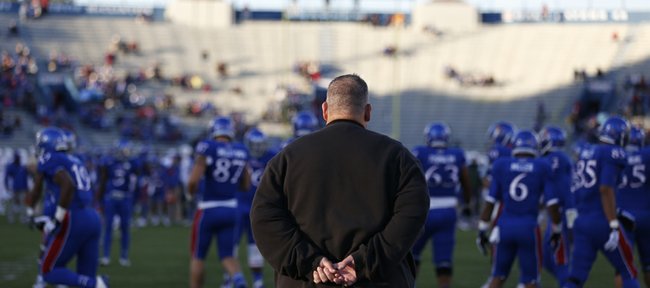 For the second year in a row, the coaches and players in the Kansas University football program watched the rest of the country kick off the college football season while the Jayhawks sat through an opening-week bye.
"I could lie and tell you that everyone was happy that they were off this week," KU coach Charlie Weis said on Monday morning's Big 12 coaches teleconference. "But that's what that would be, it would be a lie. I think that every player and every coach would have been much happier if they were playing on Saturday instead of sitting around watching games on TV."
Because KU's first opponent of the 2014 season — Southeast Missouri State, 6 p.m. Saturday at Memorial Stadium — opened its season last Thursday, Weis and company were freed up to scout some other future opponents on Saturday and the third-year KU coach took full advantage.
"Saturday I just turned into your typical football junkie, tried to catch as many of our opponents as I could that were on TV," Weis said.
That came after watching SEMO roll to a 77-0 victory over Missouri Baptist in its opener. Weis watched the game online through the Ohio Valley Conference's web site and then broke down the coach's copy of the film on Friday. Despite the lopsided outcome, Weis said getting an early look at the Redhawks was beneficial.
"It was brutal," he said of the game that SEMO led 49-0 at halftime. "But at the same time, we already had a pretty good idea, but you could see the tempo that the offense runs the game at and you could see any tweaks that the defense had. (It gave us) the opportunity to confirm what their bread and butter is."
Weis said he thought one of Southeast Missouri's biggest concerns heading into the year looked an awful lot like a strength in the opener.
"They played great in all three facets," he said. "Besides going up and down the field on offense and shutting them out on defense, one point of the game that kind of slapped you in the face was how well their special teams played."
The 2014 season marks the first competitive year of football in Missouri Baptist history. The school announced the creation of the new program in March of 2013, played its first public scrimmage in September of 2013 and kicked off its first ever season with last week's loss to SEMO.
The Redhawks rolled to 516 yards of total offense while holding Missouri Baptist to 81. The 77-point total was the most scored by a SEMO football team since joining the FCS ranks.
"In the first game, you can't get overly excited or you can't get overly disappointed in how things go," Weis said when asked for his general thoughts about the Big 12 and college football's opening weekend. "You can't really worry about it too much in the first week. I think it takes a couple of weeks for the dust to start to settle and then you can figure out teams' identities."

Big 12 competitive vs. top dogs
Weis was asked Monday morning about last weekend's strong showings of Oklahoma State vs. top-ranked Florida State (37-31 loss) and West Virginia vs. perennial SEC powerhouse Alabama (33-23 loss).
"I don't think anyone that's involved in the Big 12 thinks that's a big surprise," he said of the near upsets by teams picked to finish fifth and eighth in the Big 12. "We all know this is a loaded league and you can't underestimate any of the competitors in this league."
More Mizzou talk
Another season brought another round of Missouri questions and Weis' answer to the inquiry sounded awfully familiar.
"When I came here, Missouri was already gone so I don't feel the same thing that most of the Kansas fans feel with the hatred toward Missouri," he said. "When teams leave on their own, which they did, you can't really worry about them. You've just gotta put your time and energy into the fact that you're playing nine good teams every year. We do happen to have a very good team in-state, in Kansas State, that we play at the end of the year. We're not hurting for a rivalry game, we've got one about 90 miles down the road."
More like this story on KUsports.com