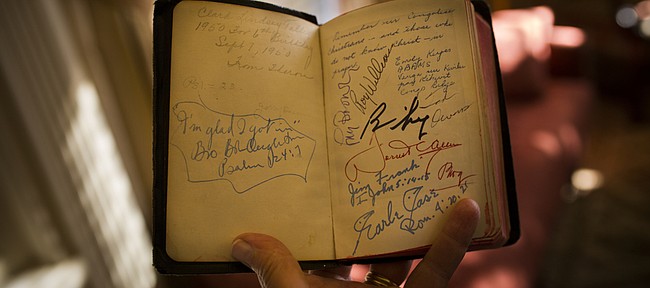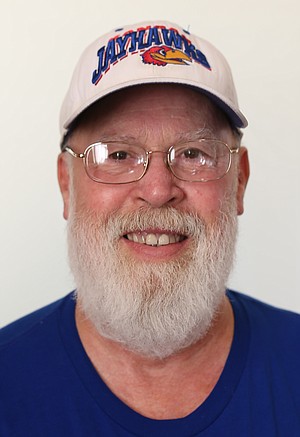 Last Monday's 60 years of Allen Fieldhouse celebration was supposed to be all about the old Kansas University basketball arena that has served as the stage for some of the most memorable moments in the program's storied history.
But for one Jayhawk fan and Kansas native who recently moved to Lawrence, it was about making a life-long dream come true.
Clark Talley, 70, grew up in Wetmore, 30 minutes outside of Hiawatha. When he was around 10 years old, sometime in the mid-1950s, he met legendary KU men's basketball coach Phog Allen when he spoke at a church camp Talley attended. Already a huge Jayhawks fan by that point — "Clyde Lovellette was my hero," Talley says. "And the team of '52. I patterned my hook shot after his." — Talley was in awe of Allen the entire time. After the man for whom Allen Fieldhouse is named finished addressing the campers, Talley approached him and asked him to sign his Bible. Allen obliged and in red ink on one of the first few inside pages signed his name, "Forrest C. Allen, Phog."
Always a treasured possession, the book became even more precious in 2008, when Talley had current KU coach Bill Self sign it on the same page in black marker, just above Allen's signature. According to Talley, Self was very interested in the history of the book when he signed it at an event in Concordia shortly after KU won the 2008 national title and did not hesitate to add his name to it.
With two of KU's eight legendary head coaches now represented, Talley began to brainstorm ways he could add to his collection.
"That's basically been a life-long ambition of mine to get the others to sign it," he said.
And when he heard about last Monday's event, which included featured guests Ted Owens, Larry Brown, Roy Williams and Self, Talley knew he had to get there to make it happen.
He arrived just after 7 p.m. for the event that began promptly at 7:30. Not knowing his angle or how he could possibly make this happen, Talley lingered near the tunnel that the players and coaches run out of prior to the start of each game to see what he could do. Bingo. Just before 7:30, Talley caught Brown walking onto the Fieldhouse floor and approached him about signing the Bible.
"After I told him what it was and asked him if he wanted to sign it, coach Brown signed it and said, 'You just made my day,'" Talley recalled.
One down, two to go.
With Owens and Williams already seated on the floor and Talley's seats in the bleachers at the north end, the retired high school journalism teacher waited patiently and soaked up all of the sights and sounds, laughs and smiles of the night. When the event wrapped, he and a neighbor made a break for the floor and the final two coaches in the project.
"We just kind of bulled our way down there afterwards and got it done," Talley said. "Coach Williams was signing a basketball and that's when I got him to sign my Bible."
After that, Talley went over to Owens, who was still seated at his table, and got him to sign the Bible, as well. From left to right, the signatures of Brown, Williams and Owens now surround Self's in black ink and Allen's in red in the form of an arc over the top.
"As soon as they heard Phog Allen was involved they all were very interested and excited," Talley recalled. "They all have such great respect for him."

It's hard to say if another piece of KU memorabilia signed by all five coaches exists, but the mere thought that he now owns one overwhelmed Talley.
"I was pretty tongue-tied and shaken up there," he said. "But I'm so appreciative that they all signed it."