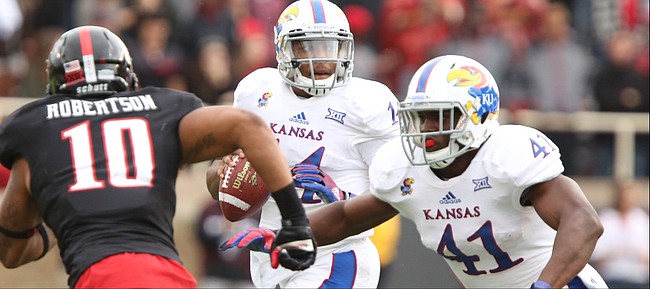 Michael Cummings has started two games and senior tight end Jimmay Mundine set a different career record in each one. You think maybe Mundine likes the way Cummings finds him?
"Oh, come on," Mundine said. "Of course I like the job Michael does finding me."
Mundine caught five passes for a career-best 88 yards vs. Oklahoma State and had a career-best seven receptions and 82 yards at Texas Tech.
The chemistry between Cummings and Mundine even trumps plays coaches go to great lengths to script.
"There are so many times right before the play I'll say to him, 'Hey man, this guy keeps doing this, I'm doing that. I know the coaches are going to get on us tomorrow at film but hey, we're going to get the first down.' We just go out there and make it happen," Mundine said. "That's what we're supposed to do as an offense, get first downs and score touchdowns."
A 6-foot-2, 240-pound native of Denison, Texas, Mundine leads Kansas with 23 catches for 294 yards, both career highs with five games remaining. He has caught more passes for a higher yardage total in the two games Cummings has started than in the first five games, all with Montell Cozart starting at quarterback.
Teaming up to change things on the fly has played a part in forming a productive tandem, according to Mundine.
"When we see that a guy is just jumping out so wide that the middle of the field is wide open why not just go underneath him, instead of trying to go around and fight to get over him and then get open?" Mundine said. "I promise you we were literally walking onto the field I said, 'Mike, I'm doing it.' He said, 'All right.' He hit me on the play and we got a first down and we went onto the next one."
Mundine and Iowa State's E.J. Bibbs, who has six touchdown receptions to Mundine's one, have been the most productive tight ends in the Big 12. Mundine averages 12.8 yards per catch, compared to Bibbs' 8.2,
Mundine didn't block particularly well during his first couple of seasons and suffered frequent drops as a junior, but has put it all together during a productive senior season.
"Jimmay is a talented young man and a guy that can make some plays for us in a lot of different ways," interim head coach Clint Bowen said. "He's lined up, played in-line tight end and blocks. He's lined up in the backfield, plays basically a fullback, and we flex him out as a wide out. So, when you have a guy with that versatility you can move him around and use him quite a bit and it really helps."
More like this story on KUsports.com