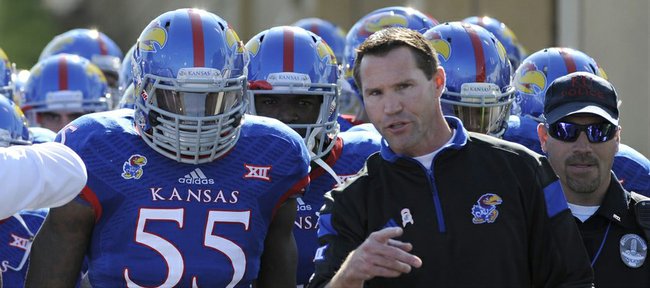 The Baylor offense leads the Big 12 in 11 statistical categories and ranks first nationally in four, including total offense (579 yards per game), touchdowns per game (6.6) and fourth-down conversions (18) and attempts (25).
Clearly, that kind of firepower creates more than a little cause for concern for a Kansas University squad that heads to Waco, Texas, this weekend as a 36-point underdog. But don't think for a second that interim coach Clint Bowen is giving his Jayhawks a pass in preparation just because the 6-1 Bears are such a dangerous machine.
"We tell them all the time, you're Big 12 football players, this is the kind of game you came to Kansas to play in," Bowen said. "We're excited and looking forward to a good week getting ready for them."
Prepping for a potent Baylor offense is nothing new. Art Briles' Bears (6-1 overall, 3-1 Big 12) rank as the only squad in the country to sit in the top two in terms of offensive output in each of the past four seasons. A year ago, Baylor's 619 yards per game led the country, while the 2012 (572) and 2011 (587) teams ranked second.
"Coach Briles has obviously done a very good job down there," Bowen, now in his third season of trying to come up with a defensive game plan to slow Briles and Baylor down. "If you look at where they're at this year, (they) climbed as high as No. 4 before that loss (41-27 at West Virginia on Oct. 18), but on offense they are leading the Big 12 in scoring offense, total offense, rushing offense, pass efficiency, first downs. You name it, they lead (in it)."
Because of last week's bye, which Bowen called "an important week for us," the Jayhawks will have twice as much time to prepare for the Baylor offense. And while that could mean over-emphasizing the importance of the big picture — if we can just hold Baylor to 28 or less or if our offense can just get into the 30s — Bowen refuses to let it.
"Our emphasis (is the same) every time we talk about it," Bowen said. "As a defense, you go out and you get a three-and-out. You get stops. On offense, you go out and you try and score. You get first downs, you move the chains and go."
Both are much easier said than done, of course, particularly for the Jayhawks, who rank last in the Big 12 in scoring offense, passing offense, total offense, pass efficiency and rushing offense, but, on the flip side, in the top five of four of those same five categories defensively.
"In football, you simplify it and put it down into things that the kids know that they can control," Bowen said.
If the Jayhawks (2-5, 0-4) hope to have any chance against Baylor, they'll have to control Bears quarterback Bryce Petty.
Petty enters the game having thrown for 1,757 yards, 17 touchdowns and three interceptions in six games, and Bowen made no attempt to hide the fact that he's as impressed with Petty as any player he's coached against in quite some time.
"If you just step back and look at it, there's some things that the kid does that you really have to admire," Bowen said. "Defenses in this conference are trying to make things difficult for him, and (he has the) ability to pick it up and throw it to the right spot all the time, and it's happening on the fly. He has a great understanding of their system. He's an accurate thrower. Obviously he's a smart kid that can make quick decisions."
He's also not the Bears' entire offense. During the past four seasons, Baylor has ranked in the Top 21 in the nation in run-pass balance percentage. So far this year, the Bears have run 56 percent of the time (344 attempts) and passed 44 percent (276) while racking up 4,053 yards of total offense and averaging a whopping 49 points per game.
"You think of Baylor and you think of an up-tempo offense," Bowen said. "But in reality, they're kind of a grind-it-out, run-it team. They're leading the conference in run percentage attempts and rush yards."
Healthy and rested
Earlier this week, Bowen said senior running back Tony Pierson was "fine" and should be ready to go Saturday. Tuesday, Bowen added to that and said, "(The bye allowed) a few of our players to get healthy and kind of get their feet back underneath them."
Coleman coming on?
Junior receiver Rodriguez Coleman has been pretty much invisible since the start of the season. The junior-college transfer who snagged eight receptions for 45 yards and a touchdown in 2013 has yet to make a catch in three games this season. Despite the slow start, Bowen said Coleman had not been counted out.
More like this story on KUsports.com