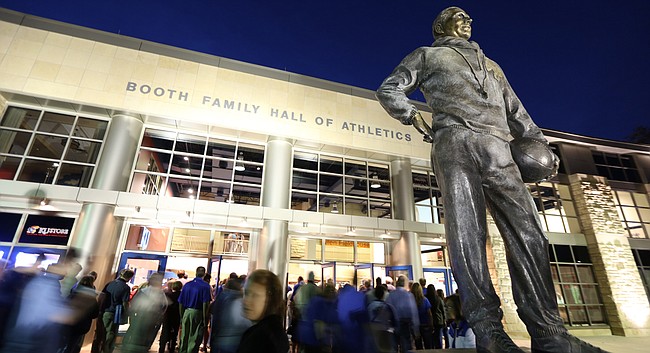 Photo Gallery
Allen Fieldhouse 60th anniversary celebration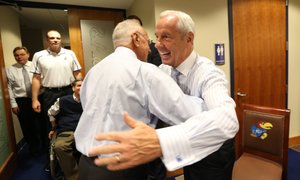 Images from Monday night's 60th anniversary celebration of Allen Fieldhouse.
More coverage of 'Celebrating 60 Years'
Leftover notes from Monday's Celebrating 60 Years event in Allen Fieldhouse ...
Kansas University coach Bill Self praised the "IQ" and class of KU fans, citing a March 3, 2007 game in which Texas' Kevin Durant scored 25 points the first half of the Jayhawks' eventual 90-86 victory. Durant limped to the locker room to be re-taped after tweaking an ankle.
Upon returning to the bench, "our fans gave him a big ovation, which I thought was cool," Self said. "It was so cool it registered with Kevin. I saw Kevin (of Oklahoma City Thunder) a couple years ago. He told me one of the coolest moments he had as a (college) player is when the fieldhouse fans did that. Of course they (KU fans) get it. They knew they were witnessing greatness. It was good to see them respond the way they did."
Durant scored just seven points the second half as KU wrapped up the Big 12 championship.
During that first half, though ... "We couldn't guard him," Self said. "We had lottery picks in Brandon (Rush) and Julian (Wright) who couldn't do anything. I got mad and turned to Danny (Manning, assistant) when they had us down 15 the first half. He said, 'That's just a bad man right there.' There's nothing we could do to stop him."
Block revisited: Self said the "most memorable moment and the loudest the building has gotten" was, of course, "when Thomas Robinson blocked the (Phil Pressey) shot against Missouri (forcing overtime in KU comeback victory in 2012)."
More Self memories: "The most special moment in the building (in Self era) was the '88 team and coach (Larry Brown) came back for Late Night in 2003," Self told 7,500 fans, who when all receipts are counted might have raised over $400,000 for charity Monday.
"Five thousand people were turned away when we honored the '88 team. About every player came back. It was wonderful.
"Wayne's performance in 2005. We were playing for the league championship against Oklahoma State. They were loaded. Wayne put us on his back," Self said of Wayne Simien who had 32 points in KU's 81-79 win. Self also cited Keith Langford hitting a game-winning basket in a 70-68 overtime win over Georgia Tech in the 2004-05 season, which came after Langford was fouled out on what Self deemed a "crap call" in KU's Elite Eight loss to Tech the previous March.
Quite a list from Roy: Former KU coach Roy Williams brought up some home games of interest during his 23-minute speech.
"Alonzo Jamison was a tough dude. One night, he jerked the ball away from an Oklahoma player and the Oklahoma player bounced three times. He ran up to Alonzo's face in front of our bench. Alonzo said, 'Now what are you gonna do?' Ballgame was over right then," Williams stated.
"Jacque (Vaughn) does the 360-degree spin against UCLA (in 1995) when we were down 19 and won the game. He took a charge in the Florida game, the best charge I've ever had anybody take. The talk he gave on Senior Day and how emotional he was. The roses you (fans) threw at that Senior Class (including Vaughn, Jerod Haase, Scot Pollard) is something I'll never forget. That picture is in my office at the University of North Carolina.
"There's a picture of me and Scot Pollard in my office in North Carolina, Senior Day for him as well. We had a substitute ready to take him out. He came down on the secondary break and shot the only three he ever attempted and made the sucker.
"Raef's (LaFrentz) dunk against Missouri (in 2008). The greatest dunk I've seen in a game. John Clougherty is ACC supervisor of officials. He'll tell you it's the most amazing dunk he's seen.
"Greg Gurley makes a three in front of our bench, gets fouled and goes into our bench. I said to the official, 'That's after the shot, he should get a 1-on-1.' They gave Greg a one-and-one. It may be the only five-point play in Kansas history (on Senior Day, 1995)
Roy wasn't finished ...
"We're playing Iowa State in here. We used to beat those guys pretty badly. Johnny Orr, who I loved, had them hold the ball. It didn't work real well. Justus Thigpen was in front of the bench. Thigpen looked at Johnny and said, 'This (bleep) ain't workin'!" Williams said to roaring laughter in the stands.
"The next game Johnny Orr keeps Justus out of the game the entire first half. He got 30 the second half and Iowa State beat Oklahoma (giving KU the league title).
"We won a game against Oklahoma in here because of you guys (fans)," Williams added. "A guy goes to the line for two shots. We had a two-point lead. I said, 'No way he's making those two free throws; the crowd will not let him.' Brick, brick. We win.
"Oklahoma State is here for the conference championship (in 1995). Big Country (Bryant Reeves) had killed us in Stillwater. Greg Ostertag decided not to play the game we wanted. He comes here, got zero. Greg shut him out."
Brown reflects on Danny: Larry Brown said he felt Danny Manning was the "best college player ever in my mind."
Manning, of course, led KU to the 1988 national title.
"It's unbelievable. He could probably have won three. In '86 (Final Four loss to Duke) everything went wrong. Guys fouled out. He played 20 minutes. Archie (Marshall) tore his knee up. If Archie would have been healthy the next year we would have won it in my mind. We finally won in 1988. I always look at it he should have won three if he had a better coach," Brown added, smiling.
Special building: Ted Owens and Williams on what makes coaching in the fieldhouse special.
"Being part of something bigger than you are," Owens said.
"I love this building," Williams noted, "But what makes the building is people sitting in the seats. When you came in this building, nothing is more important than what is going on in Phog Allen (fieldhouse) for two and a half hours."
Proud of Tarik: The crowd roared when Self reported that Tarik Black had made the roster of the Houston Rockets.
"It feels awesome," Black told the Houston Chronicle. "I put it out of my mind as far as pressure. Obviously, I knew I was on the chopping block and I was on a non-guaranteed contract. Now that it's official that I'm actually on the team and I'll spend the season here and I'll have the opportunity, it feels great. It's a dream come true.
"I wasn't worried at all. I don't apply pressure to myself like that. When I took the offer to come here I felt it was a great opportunity. That's all I was asking for, an opportunity from a team. Houston blessed me with that opportunity. That's why my loyalty is owed to them for them extending me the offer and giving me the opportunity."
Black averaged 5.8 points and 6.0 rebounds in the preseason.
GSR: KU's basketball team posted a perfect four-year Graduation Success Rate in figures released by the NCAA on Tuesday. This means for a four-year average all basketball players either graduated or left the program in good academic standing. As a program, KU logged an 85 percent GSR, up one point from a year ago as men's golf, softball and women's golf also posted perfect scores.