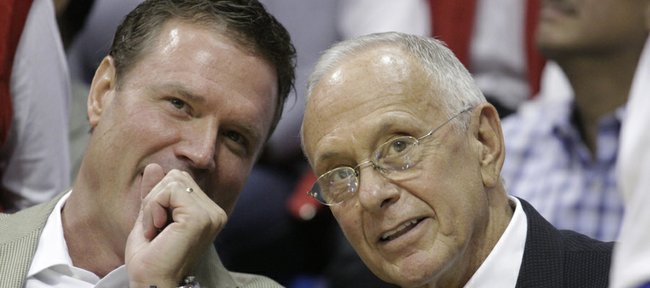 Larry Brown chuckled when informed he, Ted Owens, Bill Self and Roy Williams on Monday will represent 51 of the 60 seasons in Allen Fieldhouse lore.
The four living Kansas University head basketball coaches will be featured speakers — and guests in a Jay Bilas-led roundtable — at the "Celebrating 60 Years" event, set for a 7:30 p.m., start in KU's tradition-rich building.
"I've got a small fraction of that," said third-year SMU coach Brown, who went 135-44 overall — 71-5 at home — in five seasons at KU.
Owens, meanwhile, worked 19 seasons and Williams 15, while Self is beginning season No. 12 on Mount Oread.
"That was a big part of my life being there," Brown quickly added of KU. "Seeing what Bill has done (325-69; 175-9 at home), and what Roy's done (418-101, 201-17 at home) and what Ted (348-182, 206-47 at home) meant to the program before I got there ... it's great to be part of that."
Brown concedes it is unusual to have so few coaches over so long a period of time.
"When you consider a program of that magnitude, what it means to college athletics and basketball in particular it's kind of mind boggling," Brown said. "When you consider Dr. (James) Naismith was there and John McLendon (who tutored under Naismith) was there and coach (Dean) Smith and Phog Allen and Wilt (Chamberlain), Clyde Lovellette. It's unbelievable.
"I look at the people who have been a big part of my life, certainly coach Smith and McLendon," added the 74-year-old Brown. "A lot of people don't realize the impact he (McLendon) had on my life. I think about Bill (Self, former grad assistant on Brown's staff) and all the players I coached and it's unbelievable.
"Look at the kids I coached ... Turg (Mark Turgeon, Maryland coach) and Danny (Manning, Wake Forest coach) and R.C. (Buford, former member of Brown's staff now GM of Spurs), Kevin Pritchard (GM of Indiana Pacers), Milt (Newton, GM of Minnesota Timberwolves). It's unbelievable what those people have been able to do. That's something you don't take lightly."
Brown is the only coach to have won both an NCAA (KU in 1988) and NBA title (Detroit in 2004). He left the New Jersey Nets head coaching post to replace Owens at KU in 1983.
"The thing that meant the most to me is when I got the job and how the Allens reached out to me," Brown said of the Allen family. "Everybody that was ever involved in KU basketball before was so supportive. I think so much of that has to do with my relationship with coach Smith obviously. The pride everybody had and felt for what he (Smith) was able to accomplish I think helped my transition and Roy's as much as anything."
Tickets are available for Monday's show at kuathletics.com or 1-800-34-Hawks.