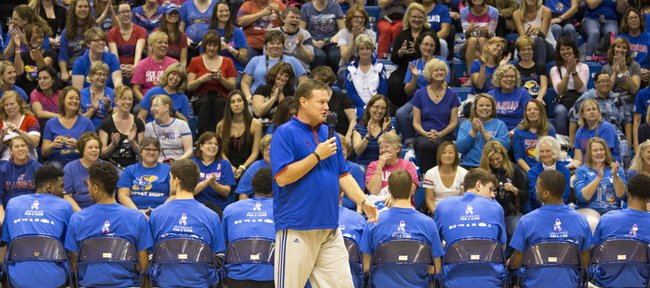 Just a freshman, Devonté Graham showed the smarts of a seasoned point guard in speaking before 450 women at Bill Self's fifth-annual Ladies Night Out breast cancer research fundraiser on Thursday in Allen Fieldhouse.
"I came here because Kansas ... has the best looking women," Raleigh, North Carolina native Graham said to screams and loud applause during a question-and-answer portion of the event.
The Jayhawks ran shooting drills with the participants, signed autographs, posed for pictures and hosted a tour of the weight room during the proceedings.
"I chose Kansas because it's the best place I've ever seen," freshman guard Sviatoslav Mykhailiuk of Ukraine told the crowd. He and emcee Self pronounced Mykhailiuk's name several times so the fans could be well-educated for the coming season.
"I chose Kansas because I wanted to play for the best coach in America," junior Jamari Traylor said to loud laughter following his obvious attempt to butter-up Self.
This was Traylor's fourth Ladies Night Out so he knew the drill rather well.
"It's fun putting a smile on their faces," Traylor said of the fans, noting he didn't mind hugging many of the women who were in line for pictures. "I'm all for the show, so it's all right," the Chicago native cracked.
Call him Svi: By the way, for the correct pronunciation of Mykhailiuk, click here.
Lucas returns: KU sophomore forward Landen Lucas returned to practice Thursday. He had missed two weeks with a stress fracture in his leg.
"He's in full contact, back full speed. Today he did fine," Self said.
Self on the battle for starting point guard: "It's going OK. Devonté is going to be really good. He's thinking instead of playing. He's so conscientious he wants to do what we want him to do, but he's not quite comfortable yet. Frank's done fine. Conner's done fine," Self added of sophs Frank Mason and Conner Frankamp. "But I would say we really need Devonté to kind of get more comfortable to give us our most effective backcourt back there."
Talkin' practice: Asked who has stood out at practice of late, Self said: "It's been a different guy it seems like every day. Some days it's Cliff (Alexander). Some days it's Svi. There's been days it's Brannen (Greene). There's been days it's been Kelly (Oubre Jr.). Of course, Wayne (Selden) has been the best player some of the days. Perry (Ellis) has been our most consistent performer, though."
Of practices in general: "It hasn't been exceptional, but the guys are trying hard. We're probably a week behind where I wish we were. I think that's usually the case with most every team we have. I do like them a lot and they are trying hard," Self said.
Monday's show: KU has sold about 5,500 tickets for Monday's "Celebrating 60 Years" event in Allen which will feature 10-minute speeches from Self, Ted Owens, Larry Brown and Roy Williams and a chat session between the guests and host Jay Bilas. There also will be videos and maybe other surprises at the 7:30 p.m., event.
"The net proceeds all go to charity so we'd like to get as close to 7,000 in here as we can," Self said. "The turnout and numbers have been really good. We are not that far off from capacity. We think anything above 7,000 wouldn't maximize the evening." Tickets are available at 1-800-34-Hawks and kuathletics.com
Recruiting: Ivan Rabb, a 6-9 senior forward from O'Dowd High in Oakland, California, will visit KU the first weekend of November, JayhawkSlant.com reports. The No. 7-ranked player in the Class of 2015 is considering KU, Arizona, Duke, North Carolina, UCLA, USC, Kentucky and others. ... KU officially has one scholarship to give in the Class of 2015, but will have more depending on how many players leave the program for the pros. Self said Thursday, "we're recruiting like we have three. That would be safe (bet)."