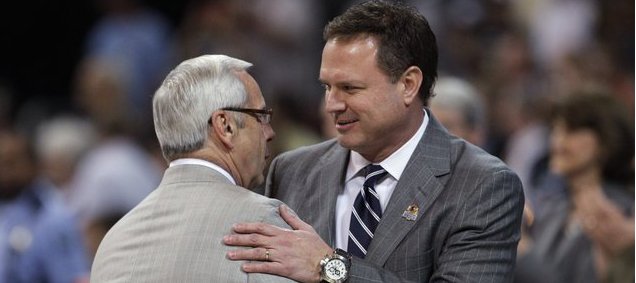 Though cautioning reporters he was mighty busy Tuesday and didn't have much time to discuss next Monday's "Celebrating 60 Years" event, current North Carolina and former Kansas University basketball coach Roy Williams gave one long, thoughtful answer to the final question of a 10-minute teleconference.
He was asked about the obvious confidence he took into his first college head-coaching job at KU in 1988-89, despite the fact he was third assistant on KU grad Dean Smith's UNC staff.
One reporter who covered Williams' entire tenure remarked that the coach appeared to have a plan from Day One and instituted it aggressively.
"I think I've always been very confident. Some people would probably say cocky," said Williams, who will join fellow former KU coaches Larry Brown and Ted Owens and current coach Bill Self at Monday's 7:30 p.m. speaking engagement in Allen Fieldhouse.
"I've always been confident on the court. Coach Buddy Baldwin (Williams' high school coach), coach Bill Guthridge (UNC assistant) and coach Dean Smith did so many good things for me and taught me so many things, it was a confident feeling on the court."
Williams' first KU team went 19-12, yet received special praise from USA Today after the season. The paper lauded Williams and his players for inspired play despite the fact the team knew it couldn't compete in the NCAA Tournament because of inherited NCAA probation.
Williams' second KU team went 30-5, and the program was off and running to the tune of 418 wins and 101 losses (.805) in 15 seasons.
"You've heard me say this before. Our first team at Kansas: Milt Newton, Mark Randall, Kevin Pritchard, Scooter Barry, Jeff Gueldner, those guys gave me a chance from the first day and believed in what I was trying to do," Williams said Tuesday.
"If they had been knuckleheads and hadn't gone along with everything I said, who knows if I'd have been that confident the second day or the second week? Those guys really believed in what I was trying to get to, and it worked out. That confident feeling was something I did have. Those kids were more important than that first team than anything else because they had confidence in what I was saying, too."
Tickets for Monday's program, which will be led by ESPN's Jay Bilas, are available at kuathletics.com and by calling 1-800-34-Hawks. Self said Wednesday that about 5,500 tickets had been sold for the show in which proceeds will go to charity.
"We're hoping to sell more," Self said.
Collison back in action: Former KU forward Nick Collison of the Oklahoma City Thunder, who had been battling an ankle sprain, played in his first preseason game of 2014-15 on Tuesday, scoring eight points in 11 minutes versus Utah. The 6-foot-10 Collison, who has made five three-pointers in his entire 10-year NBA career, was 2-for-2 from three in the exhibition.
Collison, who turns 34 Sunday, is a free agent after this season, for which he'll be paid $2,242,003.
"Everyone, always, you think about the future," Collison told the Daily Oklahoman. "But one thing I've learned over the years, you can't really ask yourself an unanswerable question. Someone told me that once and I think that's a good way to look at it. There's no way to know what's going to happen. What you can control is how hard you work every day and go from there. It's nice to be a little more mature. I know I'm comfortable with who I am as a player. We'll see how the year goes and see what happens."
Last season, Collison played a career-low 16.7 minutes per game. He averaged 10.8 minutes in the postseason.
"As Serge (Ibaka) has been playing more minutes, Nick has been playing less minutes," coach Scott Brooks told the Oklahoman. "I don't think it takes a rocket scientist to figure that out.
"You could put him in for five minutes or for 35 minutes," Brooks added. "He's going to give you everything he has."
The Thunder have big men in Ibaka, Steven Adams, Perry Jones, Mitch McGary and Kendrick Perkins.
Black update: Former KU forward Tarik Black scored 10 points off 4-of-5 shooting (2-for-4 from line) and grabbed eight rebounds in Houston's 90-89 exhibition win over Orlando on Wednesday. Black started and played 15 minutes. Black, who was not selected in the 2014 NBA Draft, according to hoopshype.com will make $507,336 this season if he makes the team.
Survey says: The Journal-World recently asked some of the 2014-15 Jayhawks, "Who is the best shooter on the team?"
Some answers:
Conner Frankamp: "I'd say right now Brannen (Greene), Svi (Mykhailiuk) and myself I'd think are the top three shooters on the team. They just knock shots down and can knock them down when they are open."
Hunter Mickelson: "I'd probably say Conner Frankamp. I'm sure that probably will be the overall answer. That would be mine. He's pretty comfortable with it. He has a smooth shot. He's always been able to shoot it."
Brannen Greene: "I'd throw me, Conner and Svi into that category. Devonté (Graham) is a pretty good shooter, too. I was kind of surprised with that."
Wayne Selden was asked how to slow down KU's top shooters. "Not let 'em catch it so they can't shoot."