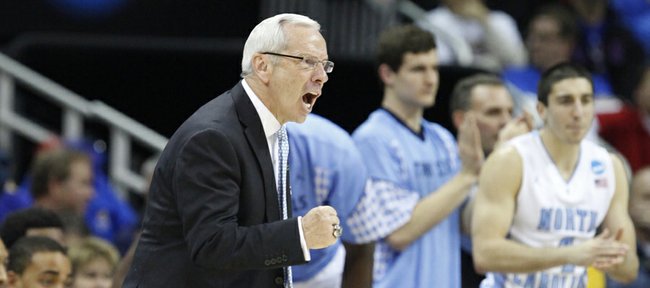 Roy Williams had a special bond with Kansas University's student body during his 15 seasons as Jayhawk basketball coach, evidenced by the chants of "Roy, Roy," on game days in Allen Fieldhouse.
"I always heard it when I was coming out before the game and when I was jogging off after the game. I always tried to acknowledge those kids particularly in that (northwest) corner down there. It gave me cold chills every time I went out and came off," 12th-year North Carolina coach Williams, who ran KU's program from 1989 to 2003, said Tuesday.
He spoke on the phone about the upcoming "Celebrating 60 Years" event — which will feature former Jayhawk coaches Williams, Larry Brown and Ted Owens and current KU coach Bill Self, set for 7:30 p.m., Monday, in Allen. Williams said it'll be his first time back on the fieldhouse court since practice before the Final Four in 2003.
"I've said this and I really believe this from the bottom of my soul, I think it's the greatest home-court advantage in college basketball and maybe any sport whatsoever," said Williams. who used to throw two T-shirts to the students before each game.
"I remember when I first got there, I think they had a couple sheets sewn together: 'All who enter, pay heed to the Phog' kind of thing. 'Beware of the Phog.' I think we got a little better material up there and remade it a few years later. I still remember when the original one (banner) was up there. There is some mystique in there. We are not Irish by any means but you could say there'd be leprechauns on every rim helping the other team's shots bounce away," Williams added.
Of the event, Williams said: "It's a pretty special day, the 60th birthday of Allen. And coach Self was great. I'm sure he did the same thing with coach Brown (of SMU), try to figure a time to do it that wouldn't stop us from doing something with our own team. My team has next Monday off. It's something we're doing a lot during the course of preseason practice anyway. Coach Self was fantastic trying to find a date that would fit all of us I'm sure."
Williams chuckled when asked what made him return to KU at this particular time as opposed to other times the past 12 years.
"I don't know that I've had opportunities to come back. You tell me what I've missed," he said. "When there have been celebrations, we've usually been playing, ourselves. I haven't been laying on the lawn chair on the first tee very long since I left."
He's definitely looking forward to visiting with Self, Owens and Brown as well as emcee Jay Bilas and the fans. Maybe they'll discuss games he mentioned as some of his most memorable.
"About 50 of them," Williams said. "I remember the last game there (of Williams' tenure). That's when Eddie Sutton ran down and shook hands with Nick Collison and Kirk Hinrich when I took them out of the game (in 79-61 Senior Day win in 2003). The Indiana game when Jacque Vaughn made the basket (at buzzer to end 86-83 overtime win in 1993). The UCLA game when we were down 20 and came back and won (85-70 in 1995). The Missouri game — the 100 Year celebration (80-70 win in 1998). There were plenty of them."
This could be another great night for Williams.
"There's no question it'll be an enjoyable time, allow me to get away from the focus of all the stress going on right now trying to get a team ready for this season," Williams said. "I'm sure the memory I'll have will be of all the people and all the great players and the great wins. Sixtieth birthday is a pretty good number for Allen Fieldhouse, too."
Tickets for the event are available at 1-800-34-Hawks and kuathletics.com
More like this story on KUsports.com