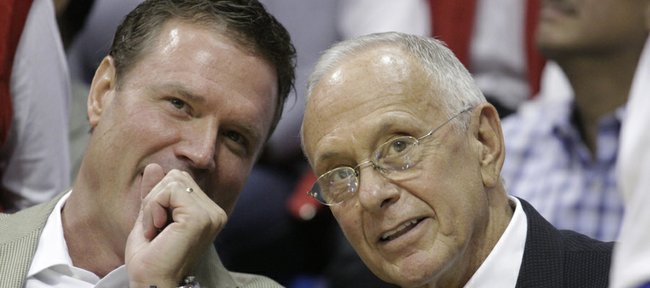 Hall of Fame basketball coach Larry Brown has been in virtually all the great hoops arenas in his 74 years on the planet.
Where does Allen Fieldhouse rank?
"It's the best building ever. I don't think anything compares to Allen Fieldhouse," third-year SMU coach Brown said Sunday. He'll be back in Kansas University's shrine with fellow former KU coaches Ted Owens and Roy Williams and current coach Bill Self at 7:30 p.m., a week from today, paying homage to the building which is celebrating its 60th anniversary.
"I always think when they put in an encyclopedia what a fieldhouse is supposed to be like, it'd be Allen Fieldhouse," Brown added.
Brown, whose five KU teams had a 71-5 record in Allen, said: "The thing I always remember is going up in the stands before games early, sitting down and talking to people who had watched games since the beginning and the love they had for this school and the pride they had in everybody that played and coached there. That stands in my mind more than anything."
The man who coached KU to the 1988 national title does have a favorite game or two in Allen.
"I had so many I could look to, but we played Missouri my first year, and Ced (Hunter) unfortunately was ruled ineligible, and Mark (Turgeon) got to start (at point). I don't know why, (but) I always think of that game. I really felt like, 'Hey, we made it.' I think we beat them pretty good," Brown added of KU's 73-56 victory.
"Obviously, the game when Leonard Hamilton was gracious enough to let us put Archie in," Brown added of Archie Marshall, who despite being on crutches was inserted late in a 75-57 win over Oklahoma State on March 5, 1988. OSU coach Hamilton let Marshall launch an uncontested shot.
"It was Danny's (Manning) last game and so special in that regard, but the fact Archie got to play despite some disappointments will stand out for me as well."
Brown and his staff also were responsible for bringing the "Late Night" tradition to town. Late Night celebrated its 30th anniversary this year. The first Late Night was in 1985-86, Brown's third season here.
"It was embarrassing at first when they said, 'Late Night With Larry,'" Brown said. "I didn't want that, just like I wanted 'Kansas basketball school' for our (summer) camp. I remember one year they wanted to get Vanna White (from Wheel of Fortune) to come. She was too expensive. I kind of laugh at that now," Brown added. "What it has become is incredible. That's a credit to Bill. It's amazing."
Brown said he's "flattered" to take part in next Monday's "Celebrating 60 Years" program, which Self has called a "rap session" of sorts with host Jay Bilas of ESPN.
"That was a big part of my life being there," Brown said. "What Bill has done, what Roy's done, what Ted has meant to the program before I got there, I have admiration for all of them, Bill in particular. He's included me in so many things since I left. He's made me feel part of that program, something I don't take lightly and appreciate."
For tickets to next Monday's show, go to KUathletics.com or call 1-800-34-Hawks.