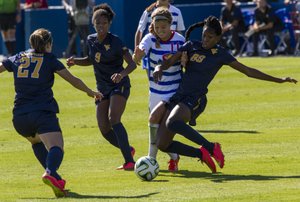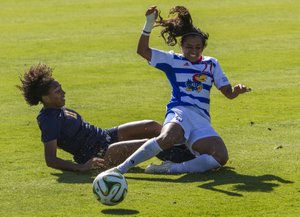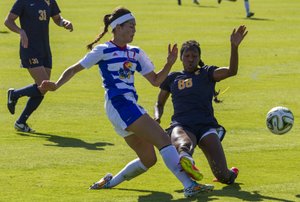 Now is no time to panic, nor is there much reason for concern.
That was the message coming out of the mouths of Kansas University soccer players and coach Mark Francis on Sunday, following the team's second loss in three days at Rock Chalk Park.
The No. 9 Jayhawks have earned the right to take that stance, because they won 14 of their first 15 games before suffering their first back-to-back losses of the season — the latest, 2-0, to No. 16 West Virginia.
In the minutes following their second home setback against a top-25, Big 12 opponent this weekend, senior KU goalkeeper Kaitlyn Stroud and junior midfielder Liana Salazar addressed their teammates, even before Francis came to speak with them on the field. All three wanted each player in a Kansas uniform to know the Jayhawks (14-3 overall, 4-2 Big 12) shouldn't be re-thinking anything.
"It's so hard sometimes," Salazar said after WVU (11-2-2, 4-0-1) extended its unbeaten streak to 12 games. "I think we're playing good. Sometimes it's just soccer. Soccer is like that. You play good, and sometimes it's not working for us."
The Mountaineers, who haven't lost since the last weekend of August, only outshot Kansas 9-7. And Francis thought West Virginia only created three good chances in 90 minutes against the KU defense and keeper Stroud (two saves). On one of those, Kate Schwindel drilled a shot off the crossbar. On the other two, she sent the ball into the back of the net, in the fifth and 77th minutes.
"Nothing's changed," Francis, KU's 16th-year coach, said. "It's not like we're losing to someone who's an unranked opponent or an opponent that's not worthy of beating us, because both teams (No. 22 Texas Tech on Friday and WVU Sunday) obviously did enough to win the games."
Salazar had one of her two shots hit the crossbar above Mountaineers keeper Hannah Steadman (three saves), and the visiting goalie denied KU senior midfielder Jamie Fletcher on three occasions.
The stout West Virginia defense, led by Kadeisha Buchanan in the back, has only surrendered 0.42 goals a game in its current unbeaten streak. While Kansas couldn't produce a score against it, Francis said his team actually much better than the scoreboard indicated, and that was possibly the biggest reason for optimism.
"We're coming off of a half where we've played as well as we've played all year," the coach said of the final 45 minutes, "and we've gotta build on that. I told the girls that has to be the level of understanding that we expect from here on out. That's the minimum (level) that we should be playing at. If that's the case, then we're starting to play very, very well at the right time."
Asked if anything had changed for KU in the past two losses, Salazar couldn't come up with anything tangible.
"I don't know," she said. "It's just unfortunate."
Kansas plays its regular-season home finale Friday against Iowa State (6-9, 0-5).
More like this story on KUsports.com