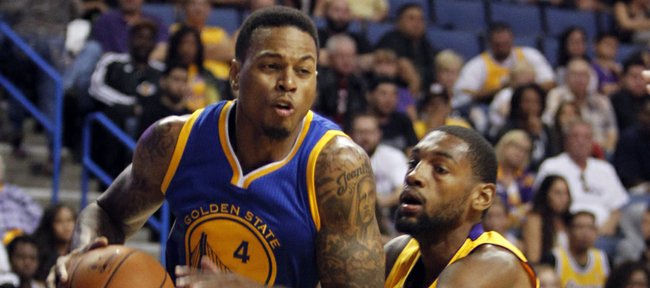 Former Kansas University guard Brandon Rush tore the ACL in his right knee in late May of 2007 and had surgery performed on June 1 of that year.
He missed just two games of the 2007-08 season, taking the court against Washburn on Nov. 15, 2007, or just 51⁄2 months after undergoing the ultra-serious operation.
Flash forward. Rush tore his left ACL on Nov. 2, 2012, in the second game of the Golden State Warriors' season. He didn't play in a game until Nov. 5, 2013, the fourth game of the 2013-14 season (for Utah), or more than a full year after hurting the opposite knee.
How in the heck did Rush return so soon for the Jayhawks in comparison to his recovery time in the NBA?
"I guess, Cheddar. Do you know Cheddar?" Rush asked a Journal-World reporter Friday in Kansas City's Sprint Center, where the 6-foot-6 Rush scored four points in his Warriors' loss to Mario Chalmers' Miami Heat.
"Cheddar" is 12th-year KU associate director sports medicine Bill Cowgill.
"He put me to work in there," Rush said of the training room. "I was back in five months and took off from there," added Rush, a starter and key player on KU's 2007-08 NCAA title team. "This one took 10 months to get back. It was brutal."
It wasn't anybody's fault it took him 10 months to return to action in the pros.
"It was the same things," Rush said, "but I had to wait awhile. I tore my MCL, too, and had to wait for that to heal before surgery. It took two extra months (before undergoing surgery). It took me a long time to get back."
Rush, who played sparingly in 38 games for the Jazz last season before signing with the Warriors, suffered from back spasms in Friday's exhibition and didn't play the second half. He should be considered day-to-day.
In five exhibition games, Rush has scored 19 points off 5-of-20 shooting. He has made one of 11 threes.
He hopes to remain a Warrior for a long time now that he's in his second go-round with the team.
"I've always been a West Coast guy. It's a good fit for me. I'm happy," the laid-back Rush said. "It's amazing what we have going on with the guys we have. They've been in the playoffs two years in a row. They asked me to come back. It was a no-brainer for me."
Embiid heads home: Former KU center Joel Embiid of the Philadelphia 76ers has returned to his home country of Cameroon with his sister, Muriel, following Thursday's tragic death of their younger brother, Arthur, 13. According to Philly.com, Arthur was hit by a vehicle that had rolled down a hill.
Muriel plays volleyball at Rochester College in Michigan.
"Thank you everyone for the support.....He didn't deserve the way he died either smh #Prayers," Joel wrote on Twitter on Friday.
Joel also tweeted a picture of his brother with the message ... "RIP for my brother who died at the age of 13. The bad thing is that I hadn't seen him since I left Cameroon 4 years ago and all these days I was just thinking about next summer so I have a chance to finally see him again. GOD has a plan for all of us. We just gotta pray. HES GONNA BE MISSED."
Coach Brett Brown told NJ.com: "We just tried to make sure that he knows he's got a team and people that care for him. It's a horrific tragedy for him and his family. For him to be away from his country and be away from his family at a time like this, you just try to help him get through this. And only time will have a chance to heal it a little bit. To see a young man have to go through that and be with him while he has to go through that initial news, there are no words to choose to describe that."
Embiid, the No. 3 pick in the 2014 NBA Draft, had foot surgery last summer and may not play at all his rookie season with Philly.
More like this story on KUsports.com