Photo Gallery
KU volleyball vs. TCU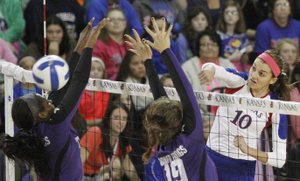 The KU volleyball team met Texas Christian University in a match Saturday at KU.
In an eight-day span, Kansas University's volleyball team went from 0-3 in the Big 12 to .500 and No. 30 in the all-important RPI to No. 20.
"We won three Big 12 matches, two on the road. That's a really good week," KU coach Ray Bechard said after the (15-5, 3-3) Jayhawks' 3-0 victory over (12-9, 2-5) TCU on Saturday in sold-out Horejsi Center.
"It takes awhile for so many players to try to get together, mesh and communicate and be the type of teammates you need to be when half your team is new. It's not an excuse. We will not use it as one. We're looking forward to continuing (on) that road," Bechard added after the 25-17, 25-19, 25-19 romp.
The Jayhawks, who lost seven seniors from last year's NCAA Sweet 16 team, won at Baylor and West Virginia and drilled TCU following season-opening losses at Oklahoma and at home to Kansas State and Texas.
"I think we have a lot more energy. We're a lot more focused and starting to trust each other a lot more," sophomore middle blocker Tayler Soucie said after smashing a career-high 16 kills against just one error.
Senior Sara McClinton had 12 kills, freshman Kelsie Payne 10, while senior Chelsea Albers and junior Tiana Dockery had eight apiece. Albers had 13 digs.
"Actually, me and Chelsea are the ones that kind of gave a kick in the butt I guess," McClinton said of locker-room chats with their younger teammates.
"As far as the Big 12 ... it's so intense, everyone comes to play. These matches mean a lot. We had to get everyone really on board to come and play and start turning things around," McClinton added after passing Jana Correa for 10th on KU's all-time kills list (1,140).
Things were especially edgy when the squad took an 0-3 record to Baylor, where KU won, 3-1.
"There's a little bit of urgency for every match we play. (But) we never want to be 0-4. It's keeping at it, coming to practice with an attitude of, even though we were 0-3 in the conference that we still have a chance to get better, and that's not how we were going to end our season," McClinton said.
Freshman setter Ainise Havili had 45 assists and 11 digs with two aces for her 10th double-double. Sophomore Cassie Wait had 20 digs, while freshman Madison Ridgon contributed three late kills vs. TCU.
"We're better, working hard," Bechard said. "To get off to the start we did (in league), obviously there was a high level of disappointment, but there was no doubting, no second-guessing. There were times today we played to the Jayhawk standard."
KU's quest to leap over the .500 mark in league play continues Wednesday at Iowa State. The Jayhawks return home to meet Texas Tech at 1 p.m. Saturday.
More like this story on KUsports.com