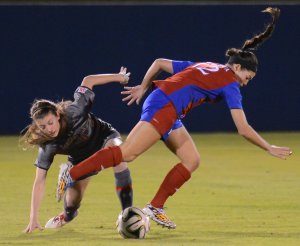 The No. 9-ranked Kansas University women's soccer team suffered its first Big 12 loss Friday at Rock Chalk Park.
No. 22 Texas Tech edged KU, 1-0, snapping KU's six-game winning streak and handing the Jayahwks their first shutout since a 1-0 loss on Sept. 19 at Marquette.
Texas Tech freshman Alex Marmureanu scored the game's lone goal with 55 seconds remaining before halftime when she blasted a shot in the upper 90 past KU goalkeeper Kaitlyn Stroud.
"It was definitely caused by our own doing. It was a poor clearance on my part and Jackie (Georgoulis) and I had a miscommunication," KU senior defender Caroline Van Slambrouck said. "So that's unfortunate, but the kid (Marmureanu) hit an incredible shot. There's nothing you can do about that."
Kansas (14-2, 3-1) had a sluggish start to the first half and was outshot 4-0 in the first 15 minutes, but the Jayhawks found a rhythm offensively after that.
KU ended up being level with the Red Raiders on shots at 8 apiece going into the break, but Van Slambrouck said Marmureanu's goal was deflating.
"It came at a really poor time," Van Slambrouck said. "It's always hard because we had built up a lot of momentum, and it's always hard when there's kind of a counterattack and it goes the other way."
Texas Tech stifled Kansas defensively in the second half, holding the Jayhawks without a shot until an attempt by Ali Kimura in the 80th minute. Although the Jayhawks struggled offensively, they kept Texas Tech in check other than the miscues which led to Marmureanu's goal.
Kansas coach Mark Francis said he knew that Texas Tech forward Janine Beckie would be difficult to contain, but he was proud with how the Jayhawks' back line kept the Big 12's goal leader from scoring.
"Defensively, I thought we played really well, especially out wide. They were serving balls into the box," Francis said. "Their No. 12 (Beckie) is a really good player. Most of the time, to be honest, I don't think she caused us too many problems."
Beckie recorded a game-high five shots, but Van Slambrouck and the other Jayhawk defenders made sure she did not get any good looks on goal.
"She (Beckie) is a great player, and we just didn't want to give her time to face up to goal," Van Slamsbrouck said. "Sometimes those opportunities come because, obviously, she had five shots, but I thought we did a good job of making those shots really hard shots. They weren't an easy shot for her to take."
The Jayhawks will try to bounce back against another ranked opponent in No. 16 West Virginia at 1 p.m. Sunday at Rock Chalk Park. The Mountaineers are 10-2-2 overall and 3-0-1 in conference play, but Van Slambrouck believes the Jayhawks can get back into the win column.
"We just got to play our game," Van Slambrouck said. "If we play our game, we'll be fine."