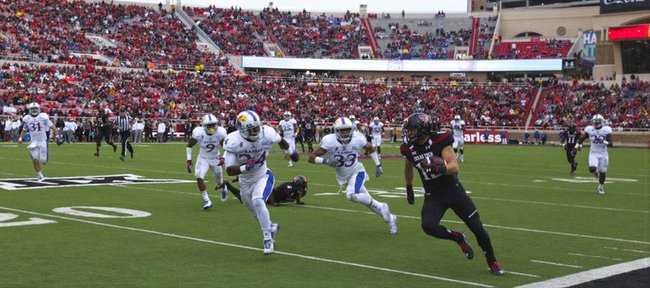 Photo Gallery
KU football v. Texas Tech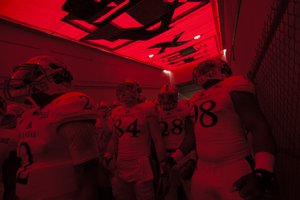 Images from Saturday's game between the Jayhawks and Red Raiders in Lubbock, Texas.
Podcast episode
Clint Bowen on what went wrong in 34-21 loss at Texas Tech
KEEGAN RATINGS
TEXAS TECH 34, KANSAS 21
Lubbock, Texas — The Texas Tech curse strikes again.
One year after a head injury knocked Tony Pierson out of Kansas University's game against the Red Raiders in Lawrence, Pierson again was bounced from Saturday's 34-21 loss at Jones AT&T; Stadium with an undisclosed injury.
A senior from East St. Louis, Ill., who entered the game as the Jayhawks' third leading receiver and rusher, carried the ball and gained nine yards on Kansas' first two plays from scrimmage but spent the rest of the afternoon in uniform but on the sideline.
After the loss, KU coach Clint Bowen said he did not know what Pierson's injury was. But the impact of losing one of their top weapons was clear to everyone.
"He's probably one of the more dynamic players on our team," said junior quarterback Michael Cummings of Pierson. "For him to go out early, it definitely restricts some of the things you can do within the offense."
Although injuries are never a welcomed sight, the timing of Pierson's latest issue could not have been much better. The Jayhawks will welcome their second and final bye week of the season next week and that will give Pierson and a host of other Jayhawks time to rest and focus on healing their bodies.
"One of the big things is getting rest," said KU linebacker Ben Heeney. "I'm pretty beat up. I know there's a couple guys on our team that are pretty beat up. I think this bye week came at a good time."
Cummings OK
Speaking of injuries, Cummings left Saturday's game after being slammed to the turf following a completed pass early in the second quarter. After staying on the turf for a couple of minutes, Cummings came off the field with what he said was "a stinger." Sophomore Montell Cozart stepped in to replace him and handed off twice to Corey Avery before giving way to Cummings, who finished the game.
"I wasn't going to stay out for long," Cummings said. "As soon as I was able to get up and walk off the field, I wanted to get right back out there."
Deep balls galore
Cummings and the Jayhawks took several shots down the field during Saturday's loss, with Nigel King and Nick Harwell being the most common intended targets.
"I feel like they did a few uncharacteristic things," Cummings said of the Red Raiders' defense. "But it was definitely in our game plan to connect on some deep shots."
Harwell (3 catches, 45 yards) snagged one for 37 yards early in the game and King (2, 51) caught one for 35 yards a little later. One deep pass that did not hit came on KU's first possession of the game, when King could not handle what might have been a touchdown.
"I actually lost it in the lights," King said. "That's still not an excuse for me to drop the ball but I did lose it in the light."
Despite the drop there, King said he enjoyed seeing KU take more chances down the field.
"I feel like we should definitely take big shots down the field with the playmakers we have," he said. "And we've started doing that."
Brothers by numbers
It was not just the football fans and people in attendance at Saturday's game who were wowed by senior linebacker Ben Heeney's 21-tackle performance. Men's basketball player Jamari Traylor, who like Heeney wears No. 31, was so impressed by his classmate's big game that he shared it with the world on Twitter.
"Ben Heeney has 14 tackles in this game!... & it's only half time. #31," Traylor wrote.
This and that...
The Jayhawks won Saturday's opening coin toss and chose to defer their choice to the second half. Texas Tech elected to receive the first-half kickoff.... The second-quarter TD pass from Michael Cummings to Justin McCay marked the first time this season that KU has scored in the second quarter.... KU lost its first fumble of the season on a botched handoff exchange in the fourth quarter.... Temperature at kickoff was 66 degrees, under cloudy skies with winds of 11 mph out of the northeast.