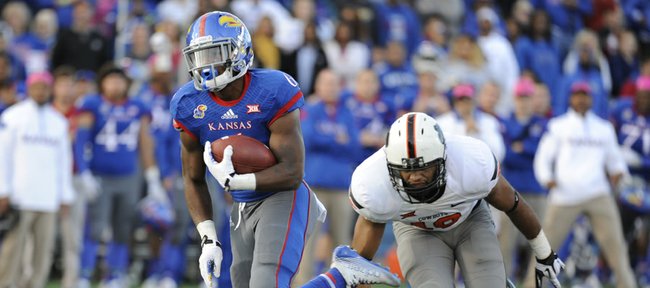 Kansas Jayhawks (2-4 overall, 0-3 Big 12) at Texas Tech Red Raiders (2-4, 0-3)
2:30 p.m. Jones AT&T; Stadium – Game-time forecast: 66 degrees, 0 percent chance of rain, winds 10 mph from the east – TV: FOX Sports Net
Log on to KUsports.com for our live game blog and follow our coverage team on Twitter: @KUSports @mctait @TomKeeganLJW and @bentonasmith
Keys for Kansas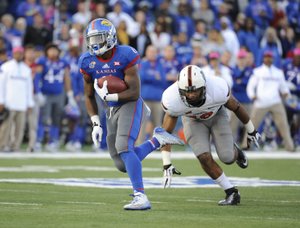 Rushing attack must re-emerge
The Kansas rushing game has hit a rough patch lately, with the Jayhawks averaging just 78 rushing yards per game over their last two outings. Luckily for KU, this weekend looks like a good time to get right. The Red Raiders have given up an average of 260 yards per game to opponents on the ground this season and also been carved up for 19 rushing touchdowns. Add to that KU's extra emphasis this week on finishing blocks and not just getting to them, and this could be a good day for Corey Avery, De'Andre Mann, Tony Pierson and the rest of the KU ball-carriers.

Better first half crucial
The Kansas defense has been lights-out in the second half of its past two games, keeping the West Virginia and Oklahoma State offenses scoreless in back-to-back weeks. That's great, but both teams were staked to big halftime leads. A lot of the onus falls on the offense for at least doing enough in the first and second quarters to keep Kansas close, but senior Michael Reynolds said the KU defense also has plans to elevate its game. Instead of making adjustments at halftime and finishing strong, Reynolds said the defense hopes to lock in a little earlier and make those same adjustments between the first and second quarter to keep the opponents off the scoreboard with a little more regularity in the first half.
Pick your blitzes
The KU defense certainly has shown a desire to be aggressive this season, but interim head coach and defensive coordinator Clint Bowen said earlier this week that the Jayhawks will have to be more fundamentally sound and less wild if they hope to slow down a Red Raiders offense averaging 30 points per game. "They run an offensive system that can put you in some stressful positions," Bowen said. "They have good athletes at wide receiver. They have a good athlete at running back. They run the ball as much as they throw it. I think it's the space that they create, the way that they force you to defend the entire field. The quarterback makes a really good decisions. They don't take sacks. They have a great system in recognizing pressures and blitzes, and the kid gets it out of his hands. It's hard to hit the quarterback."
Mega Matchup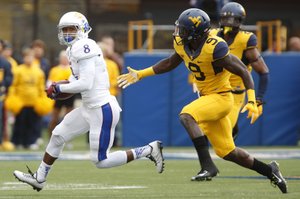 Kansas wide receivers vs. Texas Tech cornerbacks
If ever there was a game where senior receiver Nick Harwell could make a big-time impact, this might be it. Harwell, now in his fifth season of college football, figures to be covered by Texas Tech cornerbacks who have no more than one full year of college football experience. In fact, six of the eight defensive backs on Tech's two-deep depth chart are sophomores or younger, including two field corners who, at this point last year, were playing high school football. While Harwell might be most ready to take advantage of that, veterans Nigel King, Tony Pierson and Justin McCay also could become bigger factors. Despite their youth in the secondary, the Red Raiders are giving up just 228 passing yards and less than two passing TDs per game, which drives home the point that KU's offensive line and quarterback will have to be sharp in order to put the receivers in position to use their wisdom advantage.

5 Questions with Senior Buck Michael Reynolds
1 What's the hardest part about playing your position?
"For me, it's really a pretty simple position compared to what Ben (Heeney) and Jake (Love) have to go through at Will and Mike linebacker. I guess it would be understanding passing concepts and stuff like that, things that happen when I'm not just rushing the passer."
2 Have you guys talked about your 29-game road losing streak much this week?
"No. We haven't brought it up at all."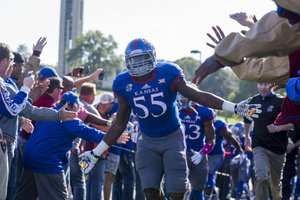 3 You had two sacks, a forced fumble and a quarterback hurry last week vs. Oklahoma State. What got into you?
"I just really knew I could beat the guy across from me, and I just really kept going after it."
4 What's been the big key to this defense pitching second-half shutouts in the past two games?
"We just really come together and realize that the second half is the most important because we have to finish the football game. We just come out really fired up and enthused and juiced up, and we make those adjustments from what hurt us in the first half and try to capitalize off of that."
5 What's your sack dance/celebration, where did it come from, and does it have a name?
"I don't know. I usually don't get one off because my teammates will come near me and push me over real quick or something like that. But I was watching past videos of myself playing, and I just put a couple of things together. There's no name for it."
Jayhawk Pulse
For the second week in a row, the Jayhawks took another step forward by battling the 16th-ranked Oklahoma State Cowboys to the wire in a 27-20 loss under interim coach Clint Bowen. Since taking over, Bowen has had a clear plan not only for how to move forward the rest of this season but also for the future of Kansas football, whether he's the guy who leads it or not. Hard work, physicality and smart football are three facets of what Bowen wants Kansas football to be known for, and this team has shown elements of all three throughout the past two games. That fact, along with their general competitiveness and Bowen's leadership, have the fan base reenergized, and now the challenge is for the Jayhawks to play with those traits from start to finish, which, Bowen said, starts with even more urgency during practices. The Red Raiders have lost four straight and many believe this could be one of just a couple of real chances left on the schedule for Kansas to emerge victorious.
Tale of the Tape
KU run game vs. TTU run D – advantage: Kansas
KU pass game vs. TTU pass D – advantage: Texas Tech
TTU run game vs. KU run D – advantage: Kansas
TTU pass game vs. KU pass D – advantage: Texas Tech
Special teams – Push