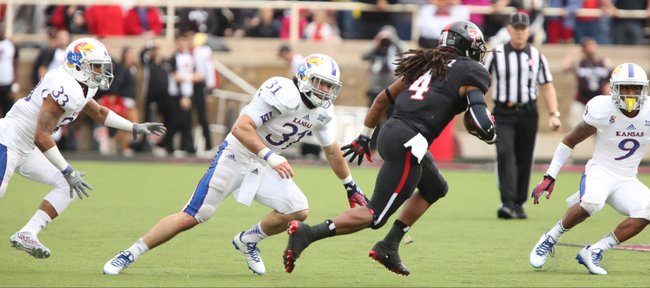 Photo Gallery
KU football v. Texas Tech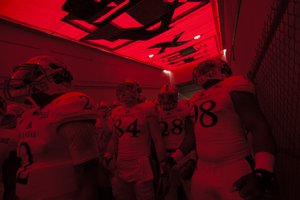 Images from Saturday's game between the Jayhawks and Red Raiders in Lubbock, Texas.
Podcast episode
Clint Bowen on what went wrong in 34-21 loss at Texas Tech
KEEGAN RATINGS
TEXAS TECH 34, KANSAS 21
Lubbock, Texas — Seldom has a football player who does everything so right and with all his might so often been asked to explain what went wrong as Ben Heeney.
Kansas University's senior middle linebacker is a team captain and as such a team spokesman. His team usually loses. So he has to try to break down why. Even when he makes 21 tackles, 17 all by himself, intercepts a pass and returns it 37 yards to put teammates in position to score a touchdown that prevents the first-half score from reaching that feeling that the game was slipping out of reach.
"I mean, I had a lot of tackles, but we lost," said Heeney, a bona fide first-team All-American candidate. It's a shame he has to say that so often.
The Jayhawks lost. Again, this time by a score of 34-21 to a Texas Tech team that had lost four games in a row. Kansas is 0-3 under interim head coach Clint Bowen, but also 3-0 when compared to Las Vegas projections of the margin of defeat. Baby steps, the only ones that ever count over the long haul, are being made, as the clock on Heeney's spectacular career ticks louder.
Heeney has averaged 8.3 solo tackles per game which will place him somewhere in the top five in the nation, perhaps as high as second, when all the weekend results are compiled.
The how of some of Saturday's tackles was just as impressive as the how many. It took Heeney all the way until the second play from scrimmage to demonstrate his exceptional football skill and will.
Jakeem Grant, Texas Tech's 5-foot-6, 169-pound receiver is on the field because he can really, really move and can catch what's thrown his way.  Grant caught a pass from Davis Webb and broke free along the left sideline. As the 54,071 in attendance began counting to six, Heeney cut a perfect angle across the field. Still, it didn't appear as if he could catch the blurry Grant. He caught him.
In a way, Heeney is to college football linebackers what Walter Payton was to NFL running backs. Payton always was a step faster than the guy chasing him. Heeney's as fast as he needs to be to chase down the football.
"I never understood what game speed was until I watched Heeney play," said Kansas tight end Jimmay Mundine, an All-Big 12 candidate. "I can get next to Heeney and we can run the 40 and I'll be neck and neck with him, but if I get the ball and I'm running, he is just gaining on me every single step. That's the difference between game speed and normal speed."
Mundine talked about two of the many plays Heeney made Saturday that don't happen very often in football games. 
"Even when No. 11 (Grant) got loose, who came and saved the day? Heeney comes out of nowhere gaining on him every step," Mundine said. "That's like their fastest player. So I mean, Heeney's a freak of nature."
The next was a reverse run by Texas Tech.
"He bit on the reverse, came all the way back and made the play," Mundine said. "You don't see many linebackers doing that. It's just a testament to how good he is, how hard he works and how athletic he is."
Quarterback Michael Cummings also can turn into a spectator when Heeney is on the hunt.
"Ben's a special guy on and off the field," Cummings said. "He's a character. Ben's a great player. He's one of those guys who's going to be hard, hard to replace when he's gone. He's definitely fun to watch when he's out there playing."
Bowen has been Heeney's position coach for three seasons, his defensive coordinator for the past two and now is his third head coach at KU.
"Unbelievable performance," Bowen said. "The kid goes out and plays as hard as he can. True leader of our team and really exactly what you'd want to see any football player on any team play like. The guy plays the game with his heart and soul. We're lucky to have a guy like that."
Kansas will have Heeney, whose 21 tackles were the most by any player in a Big 12 game this season, for five more games. Most of the best players on the Jayhawks (2-5 overall, 0-4 in the Big 12) are seniors. Losing them will be a setback and there is no question as to where the biggest hole will be, right in the middle of the defense, where a hard-hitting, fast, tough football player from Hutchinson will be gone, but never forgotten.