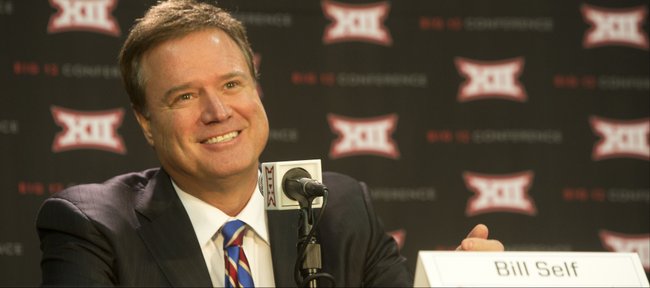 Podcast episode
Kansas University men's basketball coach Bill Self discusses the style he expects his team to play this season and addresses broader issues in college athletics, such as autograph signing, Wednesday morning at Sprint Center, in Kansas City, Missouri.
Kansas City, Mo. — Kansas University's basketball players have shown an ability to knock down the three during practices this preseason.
"The three best shooters on our team without question are (Conner) Frankamp, (Brannen) Greene and Svi (Mykhailiuk). They are all fighting for minutes," KU coach Bill Self said at Wednesday's Big 12 Media Day in Sprint Center.
"Brannen has shot the ball unbelievable. He's shot it better than anybody. Svi when he gets on a roll is as good as anybody we've had (at KU). Conner is the same way. I want them to be shooters but complete players, too. Conner has worked hard at that. He's become pretty good defensively."
Hands wide: Self said he made a mistake last season in telling his players not to foul because of the new hand-check rule.
"I think we took away a lot of the aggressiveness by always saying, 'Get your hands off. Don't foul.'
'Don't foul' is not going to be anything that comes out of my vocabulary again. I think we need to say, 'Hands wide,' because when you plant that seed, 'Don't foul' automatically you've told your team to back off. I don't think I did a good job of that last year," Self stated.
Ellis confident: Self said junior Perry Ellis has "been our best player from an overall standpoint so far."
"I think his mind-set is more aggressive. He knows he's a good player. He's always probably thought he was. Now he knows he is," Self said. "He knows he should be our leading scorer.
"I think he's ready to have a big year," added Self, who told Ellis to watch film of former KU forward Marcus Morris of the Phoenix Suns.
"We'll try to move him around where he's not playing inside all the time," Self added, estimating Ellis would play inside 30 percent of the time.
Point guard position: The point guard battle is likely between Frank Mason and Devonté Graham.
"Devonté is 'comfort' away from being lead guard on this team. I'm not saying he's going to start. He could be our starter by midseason or before. He reminds me so much of Aaron Miles," Self said.
This, that: Self said he voted Texas No. 1 in the preseason coaches' poll. Coaches were not allowed to vote for their own teams. ... KU junior Jamari Traylor was the only Jayhawk of the three at Media Day (Ellis, Selden) to wear his Big 12 ring. "It's kind of a tradition somebody wears it, so I brought it," Traylor said with a smile. Indeed, most years the Jayhawks bring their rings to Media Day and show them to curious players from other teams. ... Sophomore forward Landen Lucas, who is out because of a stress fracture in his lower leg, figures to miss at least another week of practice, Self said. ... Self attended the Royals' ALCS-clinching victory over Baltimore on Wednesday afternoon after also attending KC's win on Tuesday night. ... Self reiterated he wouldn't be able to play all seven perimeter players this season, meaning two players ultimately might be playing fewer minutes than they like. Thus practices have been extremely competitive. ... Self was seated at a table in the main press area next to West Virginia's Bob Huggins and Oklahoma's Lon Kruger. "That's a lot of victories right there," a media member said. ... About 4,500 tickets plus more than 50 tables have been sold for the Oct. 27 "Celebrating 60 years" event featuring Self, Larry Brown, Roy Williams and Ted Owens in Allen Fieldhouse. There is not a World Series game scheduled that evening. Tickets are available at KUAthletics.com or by calling 800-34-HAWKS. "It's just going to be great," Self said. ... Kruger at the podium opened by saying, "First of all, go Royals. Is that appropriate?" He added, "What a great story. Fun to watch, having grown up in the area for sure." .. Huggins wore a bow tie. "I'd kind of like to keep you guessing. I mean I don't want people to think they've figured me out yet," he said. … Self joked with Iowa State forward Georges Niang and LeBryant Nash of Oklahoma State in a Sprint Center hallway.
More like this story on KUsports.com