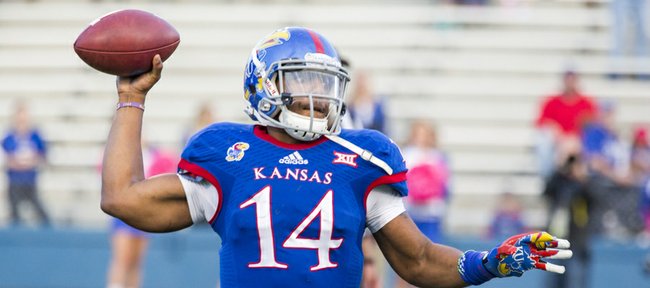 With new blood at quarterback and renewed hope for the offense, the Kansas University passing game suddenly has some life.
During last week's 27-20 loss to Oklahoma State, junior quarterback Michael Cummings, in his first start since 2012, completed seven passes of 17 yards or longer, including a 51-yard hook-up with senior receiver Nick Harwell on the Jayhawks' second drive. The seven completed passes down the field marked just two fewer than the Jayhawks had recorded during the previous five games combined. And even though Cummings had limited time to work on chemistry in practice while splitting reps with Montell Cozart and T.J. Millweard in an attempt to sort out which guy was the right man for the job, his strong debut came down to two things — maturity and confidence.
"Repetition with the receivers, knowing what they're going to do in certain situations, knowing where to put the ball to different receivers," Cummings said. "Confidence plays a role in completing any pass but mainly deep passes because the majority of the responsibility is on the receiver. You have to trust the receiver to go up and get the ball and that he's gonna be where he's supposed to be."
Harwell was on the deep ball that set up the Jayhawks' first touchdown, and the Miami (Ohio) transfer finished with season-highs of seven receptions and 91 yards.
"That's my first time getting close to the stats that I had at Miami," Harwell said. "So I was pretty happy with my stats, but there were still some plays out there that I should've made."
Perhaps the most impressive part about those seven deep completions — Cummings finished 20-of-37 passing and, on Wednesday lamented the completion percentage and "too many three-and-outs" — was that Cummings distributed them to five different players — two wide receivers, two running backs and a tight end.
"He's just more experienced and has more understanding of leading the offense," said senior Tony Pierson, who caught one of the passes.
Added Harwell: "I'm very impressed. He's always so cool, calm and collected. It just helps us out when everything's frantic, two-minute drill, everybody's running around. Him being calm kind of relaxes the whole offense."
On the heels of last week's effort, Cummings, who was the starter at quarterback as a red-shirt freshman in 2012, when Kansas lost 41-34 in double-overtime, has taken more of the first-team reps in practice this week in preparation for Saturday's 2:30 p.m. kickoff at Texas Tech. He also has enjoyed seeing his name elevated to the top rung on the depth chart, but stopped short of calling that a relief.
"It was more of a driving type of feeling," he said. "It's on me now to put the offense out there and put (together) the best performance we can and get the job done."
What exactly does he consider getting the job done?
"Win," he said. "That's it. That's my only thought. However many points it takes, that's what we're gonna try to do."
McDonald on pace
Senior cornerback Dexter McDonald, who missed all but one play of last week's loss, has participated in practice throughout the week and is expected to be ready for Saturday's game against the Red Raiders. KU coach Clint Bowen said after the loss that McDonald was day-to-day. Earlier this week, Bowen revealed that McDonald was fine.
Pierson remembers
Running back Pierson has had an up-and-down relationship with the Red Raiders during his KU career. As a freshman, in 2011, he ran nine times for 46 yards in a home loss. A year later, in Lubbock, Texas, Pierson exploded for 202 yards on 16 carries in the double-OT loss. And last season, Pierson, as a receiver, caught six passes for 118 yards in a 54-16 loss at home but was knocked out of the game with a head injury that ultimately cost him most of the rest of his junior year.
Despite the 0-3 record and the mixed bag of performances, Pierson often smiles when he hears the words Texas Tech uttered, thanks largely to that monster game in 2012.
"That's been the best game I've had since I've been at KU," Pierson said with a smile earlier this week.
More like this story on KUsports.com