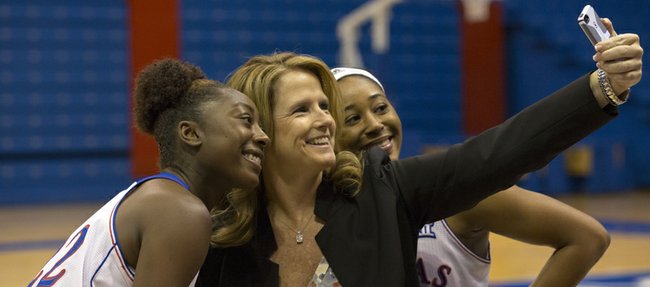 Kansas University women's basketball coach Bonnie Henrickson is excited about the Jayhawks' upcoming season, but there is still one thing in the back of her mind from the 2013-2014 campaign.
The Jayhawks' record — 13-19 overall, 5-13 Big 12 — in 2013-2014 might have looked a lot better according to Henrickson if the team executed at a higher rate in the closing minutes of each game.
"I'm not going to agonize myself for you by going through any of those," Henrickson said. "So the conversation now is, every rep matters, every possession matters, every decision that you make matters because of how many of those are literally one possession."
Henrickson acknowledged that there were many factors why the Jayhawks came up short in close contests last year, but first and foremost she believes defense must tighten up in crunch time.
"We've got to get in and steal some possessions and eliminate some extra possessions on the defensive end," Henrickson said. "When you look at how many one-possession games we were in, when you go back and look at that, it is offensive rebounds and turning the ball over. I think the thing we can clean up right away is our intent to rebound the ball better on both ends."
The Jayhawks have five newcomers on the roster, and the point has already been made clear that they'll get minutes if they are committed to playing defense.
"I'm really working on defense and trying to be a pest and like really get into people," said junior guard Timeka O'Neal, a transfer from Johnson County Community College. "That's really my goal is to get on to people's nerves on defense and to confuse the opposing team as much as possible so they can't get into their offense. I think that would be like a really huge impact as a guard here at KU, so that's one of my main goals to do here this year."
Joining O'Neal as a newcomer in the backcourt is freshman Chayla Cheadle, whom Henrickson raved about at Kansas women's basketball media day on Oct. 7.
Cheadle starred at Columbia (Missouri) Rock Bridge High School, leading the Bruins to three state titles and earning district defensive player of the year honors three times.
"I think Chayla has the chance to be one of the best defenders we've had here in a long time. Is she there right now? No," Henrickson said. "Is the expectation for her to be there? I really do from how aggressive she is able to be, how long she is, her want-to on that end, the pride she takes on that end of the floor."
The Jayhawks also added a defensive presence in the front court in freshman forward Lorraine Enabulele. While Enabulele might be undersized at 6-foot, Henrickson said her physicality will help make up for it.
"She's improved tremendously since she got here in late June," Henrickson said. "A young lady who embraces the contact and physicality, which would allow her guard someone a little bit bigger because she can handle the contact and doesn't bounce around."
Henrickson has seen some encouraging signs from her returners on the defensive end as well, with senior Chelsea Gardner not being afraid to guard smaller opponents on the perimeter and sophomore Caelynn Manning-Allen adding six inches to her vertical last season.
Gardner, Bunny Williams, Asia Boyd and Natalie Knight have taken it upon themselves as senior co-captains to ensure everyone is on the same page on the defensive end.
"Defensively, you can always be better, so I think we need to continue to progress on that," senior guard Knight said. "I also think just learning each other's games maybe a little bit more and working on our chemistry a little bit more, but I think that will come as the season comes. It's hard to tell right now since we just started practice, but I think we'll do pretty well this year."
More like this story on KUsports.com