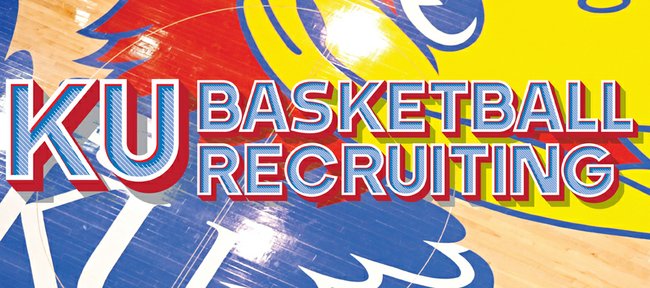 Three of the blue-chip high school senior prospects who attended Kansas University's Late Night in the Phog — Carlton Bragg, Jaylen Brown and Brandon Ingram — are talking about attending college as part of a package deal, Bragg told Zagsblog.com on Monday.
Bragg, 6-foot-9 from Villa Angela St. Joseph High in Cleveland; Brown, 6-7 from Wheeler High in Marietta, Georgia; and Ingram, 6-8 from Kinston (North Carolina) High, each have KU, Kentucky and UCLA on their lists of schools.
"We're not for sure yet," Bragg said, asked by Zagsblog which schools are in the mix for the trio. "We're going to take our five official visits first (including Kentucky this weekend) and then we're going to start talking about it again. We don't want to rush anything."
Of the impact the three could have on a single program, Bragg said: "It would be amazing."
Bragg, who is ranked No. 14 nationally by Rivals.com, has a list of KU, Kentucky, UCLA and Illinois; No. 2-rated Brown is considering KU, Kentucky, UCLA, North Carolina, Georgia and Georgia Tech; and No. 18 Ingram is looking at KU, Kentucky, UCLA, North Carolina, Duke and N.C. State.
Another player who visited KU and will be visiting Kentucky this weekend, 7-footer Stephen Zimmerman, also could be part of the package deal. He has KU, UK, UCLA, North Carolina, Arizona, Indiana and UNLV on his list.
"They did talk about that a lot," said Lori Stevens, mother of the No. 10-rated Zimmerman. "I wouldn't say there is any package deal or anything, but the four of them all get along so well and Stephen said he really liked being there with them."
Bragg, who like Brown and Zimmerman will not choose a school until the spring, acknowledged the prospects did watch some of Kentucky's NBA Combine on Friday on ESPNU.
"That was amazing," Bragg told Zagsblog.
Bragg singled out KU coach Bill Self for being "the top in the country for developing bigs at my size, my position. He said he can develop me better than any coach in the country."
Big man excels: Zimmerman recently played well at USA Basketball's mini-camp for top prospects.
"Zimmerman had a new found energy about him at the camp in Colorado. The highly skilled post player ran the floor, finished transition buckets and also swatted shots away in the lane," wrote Jonathan Hemingway of ontheradarhoops.com and CoachHemi.com. "Zimmerman reaffirmed our opinion that he stands near the top of the class with this performance. His specialty at the next level will be able to provide a team a legitimate scoring threat in the pivot. Zimmerman showed his ability to score over defenders in the paint while also being able to shoot the reverse pivot jumper with accuracy. The left-handed post projects to be a post player who can tandem well with another post player on the floor because of his skill. He passes and handles as well as any big man in the class, which gives a team the luxury to move him to the top of the key if needed."
Spring decision: Jaylen Brown's mom, Michelle, to the Atlanta Journal-Constitution: "Jaylen waiting (until spring) is still on the table at this time. This is a very difficult decision, and I want Jaylen to be at peace with his choice and not be rushed. I also want him to feel comfortable that his choice covers where he can excel in both academics and athletics."
Of the visit to KU, Jaylen Brown told ESPN.com: "They have a very family-type atmosphere going on there. I enjoyed being a part of that."
Soph Brown nets offer: Troy Brown, a 6-6 sophomore point guard from Las Vegas Centennial who is ranked No. 2 in the Class of 2017, received a scholarship offer from KU last weekend. His sister, Jada, plays for KU's women's team.
"At first, when it happens, it's so surreal, especially with me being so young. It takes a couple of hours to finally hit me and to actually know that all of this hard work is working out for me," Brown told Jayhawkslant.com. "It just humbles me and makes me want to work harder."
He is being recruited by KU, Duke, Arizona, North Carolina, UCLA, UNLV and others.
Wiggins update: Former KU guard Andrew Wiggins of the Minnesota Timberwolves heard chants of "overrated" from Indiana Pacers fans in the Wolves' 103-90 loss on Oct. 7 in Indianpolis. Wiggins had 18 points off 4-of-11 shooting (2-for-2 from three) in that game, which was his preseason debut.
"That's part of the game," Wiggins told the Minneapolis Star-Tribune. "People are going to talk. You're going to have people who love you, people who hate it. Playing college ball at KU, going to K-State, Iowa State, Oklahoma, all the fans get on you. I'm used to it."
In his team's home preseason opener, Wiggins had 11 points off 5-for-10 shooting (1-for-1 threes) in Friday's 116-110 win over Philadelphia.
Black pots eight: Former KU center Tarik Black scored eight points off 2-of-3 shooting (4-for-6 from line) in Houston's 95-92 win over Phoenix on Monday in Houston. He had seven rebounds in 25 minutes.
More like this story on KUsports.com