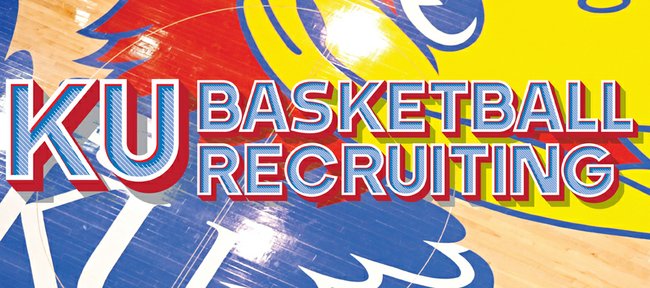 Kansas University's basketball players, coaches and support staff obviously made a big impression on Stephen Zimmerman, one of the best big-man prospects in the recruiting Class of 2015, last weekend.
"Bye Lawrence, it's been fun! #RockChalkJayHawk," Zimmerman, a 7-foot senior from Las Vegas' Bishop Gorman High, wrote Sunday on Twitter.
"Thank you @CoachBillSelf and staff for the amazing weekend. We had a great time and learned a lot about KU! #RCJH," Zimmerman's mom, Lori Stevens, wrote in her own Twitter post.
Lori also tweeted "Great show!" from Friday's Late Night in the Phog. And "Wow.What.A.Night. My goodness this is the loudest crowd I've ever heard. It's craaaaazy!RCJH!"
Zimmerman's mom told Jayhawkslant.com that she was awed from the start when coach Bill Self greeted them at the airport Friday. She also enjoyed attending a dinner party at Self's house Saturday night and a breakfast Sunday.
"We had an amazing time and it was amazing seeing the team at his house," Stevens told Jayhawkslant.com "The team was comfortable. Kids were relaxing on recliners, couches and the kids were playing different games. It was like a family get-together. We saw all of coach Self's memorabilia and told stories, so it was a great night."
Strength coach Andrea Hudy also visited with the 240-pound Zimmerman, who is ranked No. 10 nationally by Rivals.com.
"She pretty much picked out Stephen's body and told him what he needed to work on just from looking at him, so that was very impressive," Stevens said.
Zimmerman will visit Kentucky for Friday's Big Blue Madness with three other players who made official visits to KU for Late Night — Carlton Bragg, Jaylen Brown and Brandon Ingram. Zimmerman also will visit UCLA on Oct. 24, Arizona on Nov. 7 and North Carolina at a yet-to-be-determined date. He's also considering UNLV and Indiana and will not choose a school until spring. He has also said he will not be signing a letter of intent, merely a grant in aid with a school as protection in case the coach leaves for another job.
Ingram update: Ingram, a 6-8 forward from Kinston (North Carolina) High, tweeted: "Visiting Kansas was a great experience. I had a wonderful time. Shoutout to everyone who made it special! #RockChalkJayhawk."
No. 18-rated Ingram has visited Duke and will visit Kentucky this weekend and North Carolina on Jan. 24. UCLA and N.C. State also are on his list. He will be a spring signee.
Bragg update: Bragg, a 6-9 senior forward from Villa Angela St. Joseph High in Cleveland who is ranked No. 14 nationally, told Jayhawkslant.com he "loved" his visit. He said he hung out a lot with junior Perry Ellis and freshman Devonté Graham.
"Coach Self let me know that Kansas wants me. He also said that he sees me playing the four (power forward) and that I'm not a five (center). I see myself as a power forward, so that's what I wanted to hear from coach Self," Bragg told Jayhawkslant.com. "That's one thing that I will always remember about my visit — the coaching staff. Coach Roberts (Norm, assistant) is my recruiting coordinator and we have a pretty close relationship right now."
Bragg will visit Kentucky this weekend and also has UCLA and Illinois on his list. He has said he will likely sign in the spring.
No. 2-rated Brown, a 6-7 senior forward from Wheeler High in Marietta, Georgia, will visit UK on Friday and UCLA on Nov. 15. He also has Georgia and Georgia Tech on his list and is planning on picking a school in spring. No 19-rated Dorsey, a 6-4 senior guard from Maranatha High in Pasadena, California, will visit Arizona State this weekend. He's also visited Oregon and Colorado with Cal and UNLV on his list.
Fox update: DeAaron Fox, a 6-3 junior point guard from Cypress Lakes High in Katy, Texas, who is ranked No. 13 in the Class of 2016, also said he had a memorable visit.
"I know all of the guys that visited this weekend, so I hung out with all of those guys," Fox told Jayhawkslant.com. "I mostly hung with Jayson Tatum (6-7 junior, St. Louis, ranked No. 4) Malik Monk (6-3 junior, Bentonville, Arkansas, ranked No. 6), Troy Brown (6-6 sophomore, Las Vegas, ranked No. 2) and Trae Young (6-1 sophomore, Norman, Oklahoma, unranked).
"We hung out in the locker room a lot. Coach Self talked to me about what he thinks I can bring to the table with my speed and the way they play. He thinks that I would be a perfect fit at Kansas. The one thing that stood out about my visit was how all the fans support all sports in Kansas City. When we were at Allen Fieldhouse, the Royals game was on and after every hit, the fans were just going wild. They are a real loyal fan base and I love that about the Kansas."
Other juniors who visited: No. 28 Marques Bolden, 6-9, DeSoto, Texas; No. 42 Schnider Herard, 6-10, Plano, Texas; No. 66 Nick Rakocevic, 6-10, Westchester, Illinois; No. 93 Tyler Cook, 6-8, St. Louis. Other sophs who visited: No. 24 Mitchell Ballock, 6-4, Eudora; unranked DaMonte Williams, 6-2, Peoria, Illinois. Tim Finke, a 6-3 freshman from Champaign, Illinois also attended. His brother, Michael plays for the University of Illinois.
More like this story on KUsports.com